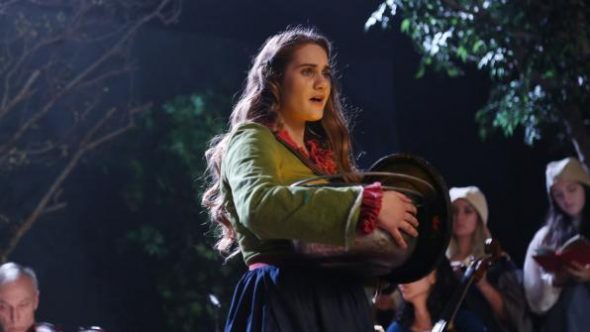 Next time you curl up in front of the TV to marathon your favorite comedy, drama, or romance, Drake sophomore Rowen Sabala suggests you consider a new genre: the opera.
Sabala stars in the new made-for-TV opera "Vireo: The Spiritual Biography of a Witch's Accuser," written by composer Lisa Bielawa on a libretto by Erik Ehn, and directed by Charles Otte. Vireo, which is produced in partnership with Grand Central Art Center in Santa Ana, CA, will reach millions of homes this summer when it premieres June 13 on both KCET in Southern California and Link TV (DirecTV375 and Dish Network 9410) nationwide. Filmed over the course of two years, it's not your parents' or grandparents' theatre experience.
"It's the first binge-watchable opera," said Sabala, a 19-year-old vocal performance major from Anaheim, California.
Indeed, Vireo is believed to be the first major opera project packaged episodically for digital distribution, according to the Los Angeles Times—when it debuts online on May 31, it will be easily accessible on smartphones, iPads, and other mobile devices. The show's 12 episodes, each with a runtime of about 15 minutes, will air online beginning May 31.
"Our goal is to change the view of opera as a whole," Sabala said. "It has a young female lead—which you don't see very often in stage or screen. There are a lot of different instruments, and the sound of the music is extremely modern. It pushes opera in a direction past what you'd traditionally expect to it to be."
Sabala portrays the heroine Vireo, a fourteen-year-old girl genius entangled in the historic obsession with female "visionaries"—as the term has been defined by witch-hunters, early psychiatrists, and modern artists. The globe-hopping story also travels through time, from the European Dark Ages, to Salem, Mass., all the way to 19th century France and contemporary performance art.
The production brought Sabala to iconic locations like Alcatraz Island and Redwood National and State Parks in California, and the Garrison Institute in New York. She's had the opportunity to work with internationally known artists, including opera star Deborah Voigt and the renowned Kronos Quartet, along with over 350 other musicians.
But in a recent preview of Vireo, the LA Times said it's Sabala who "steals the show." That sort of publicity makes her blush—she would rather watch "House M.D.," "Shameless," or "Orange is the New Black" than see herself up on the screen.
"I get really shy talking about it," Sabala said of her work. "I'm not one to really advertise myself much; I've had to do more interviews lately, so I'm becoming a little more used to that, but it's brand new and I get really shy about it."
A graduate of Orange County School of the Arts, Sabala found her way to Drake by recommendation of two of her mentors: the director of the school's vocal music conservatory, and the composer of Vireo. The two put together a list of schools with highly-respected music programs, of which Drake was one.
On a visit, Sabala was impressed by Drake's "medium-size" environment (not too big, not too small), and she enjoyed a private lesson from Professor of Voice Leanne Freeman-Miller. Perhaps most importantly, as a self-professed "choir nerd," she was captivated by the quality of the music that students created.
"For me, it's all about the music," Sabala said. "When I heard the Drake Chamber Choir, it was so amazing, and clean, and pure. That was one thing that really contributed [to my decision to attend Drake]."
After Sabala chose to enroll at Drake, she learned that she isn't the only Bulldog associated with Vireo. The San Francisco Girls' Chorus is featured in several episodes; the group's vocal director, Justin Montigne, is a 1999 Drake alumnus who also studied under Prof. Freeman-Miller. Since then, his career has taken him to the University of Minnesota for graduate and doctoral studies; to a three-year stint as member of the renowned a capella group Chanticleer; to a number of other performance and teaching opportunities.
"I received a depth of training at Drake that you can only get from being in a very supportive environment," Montigne said. "I had a lot of chances to perform, to explore my own individuality and artistry. I loved the campus, I loved the student body, and I received great vocal instruction—I was well-prepared for the next step after graduation."
Sabala isn't sure about her career aspirations after Drake. Vocal music is extremely important to her, and beyond classical music she plans to experiment with some other areas of study, including experimental music and jazz—two areas in which Drake also has strong programming and faculty expertise.
"I think it's necessary for artists to push boundaries as far as music and media can [take them], because if everyone is afraid of change, music becomes predictable, TV shows become predictable," she said. "I have a lot of respect for anyone who is involved in pushing the boundaries and trying out things that other people are too scared to."