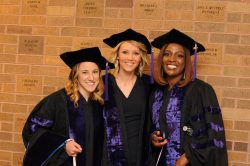 Drake University Law School held its Spring 2017 Commencement Ceremony on Friday, May 12, in the Knapp Center.
Jerry Anderson, dean of Drake Law School, and Marty Martin, president of Drake University, gave opening remarks.
Alexandria Quinn, 2016-17 president of the Student Bar Association, also gave a short speech in which she highlighted the strong sense of community within the graduating class.
"Everyone told us law school would teach us how to think like a lawyer," Quinn said. "What everyone did not tell us was how law school was going to be our family. Through three years this class has faced every emotion imaginable, but through it all we stood together."
The commencement address was given by the Honorable Bruce B. Zager, justice on the Iowa Supreme Court and 1980 Drake Law graduate.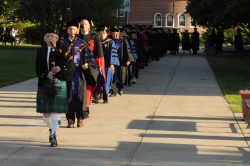 Seventy-nine students crossed the Knapp Center stage to receive their law degrees. A bagpiper led the procession of graduating students, faculty, and Board of Counselor members from Cartwright Hall to the Knapp Center. Ten 1967 Drake Law graduates attended the ceremony and nine of them walked in the procession.
Drake provost Sue Mattison and Professor Matt Doré, who was named the 2017 Leland Stanford Forrest Outstanding Professor by the graduating class, placed the academic hoods over the heads of each graduating student on stage.
Alan O. Olson, Drake Law School graduate of 1992 and president-elect of the Drake Law School Board of Counselors, welcomed the graduating class as alumni. Dean Anderson ended the ceremony with closing remarks.
"When we handed you your diploma today," Dean Anderson began, "we handed you the keys to power–the power to make a difference in your community, in your country, and in the world. And as they say, with great power comes great responsibility."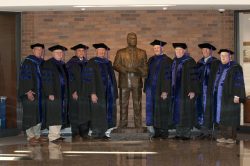 A reception was held for graduates, family, alumni, faculty, and staff after the ceremony at the Courtside Club in the Shivers Practice Facility.
See more photos of the commencement ceremony on Drake Law School's Flickr Page.
Graduates: View your individual photos from Lifetouch Photography at events.lifetouch.com/drake.