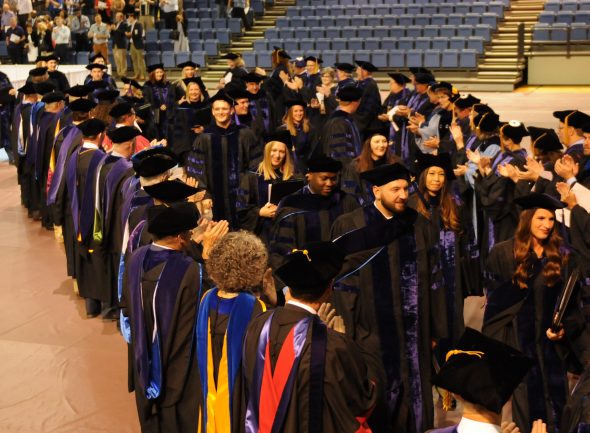 Graduates of three Historically Black Colleges and Universities (HBCUs) will be guaranteed scholarships upon admission to Drake University's law and pharmacy programs as part of an ongoing effort to increase diversity among Drake's student body.
The agreements between Drake University Law School, Drake University College of Pharmacy and Health Sciences, and the three HBCUs—Lincoln University in Jefferson City, Mo.; Lincoln University in Lincoln University, Pa.; and Kentucky State University in Frankfort, Ky.—are particularly meaningful because black students continue to be underrepresented nationwide in the fields of law and pharmacy. Approximately 6 percent of lawyers and 10 percent of pharmacists are black, according to the Bureau of Labor Statistics.
"As Drake University continues to prepare students for successful careers and meaningful personal lives, it is vital that we attract dedicated and passionate degree-seekers from all racial and socioeconomic backgrounds," said Provost Sue Mattison. "We are proud to form these new partnerships that will have a tangible impact on diversity in pharmacy and law, and symbolize our broader commitment to equity and inclusion on campus."
Under the agreement, Juris Doctor candidates who meet Drake Law's admission requirements will be guaranteed admission and a renewable scholarship covering at least half of the annual cost of tuition. The agreement begins with students enrolling at Drake Law in fall 2017 and continues through students enrolling for fall 2020.
Students interested in pursuing a Doctor of Pharmacy degree, after admission and matriculation as a full-time student in the Pharm.D program, will be awarded a scholarship of at least $10,000. The scholarship may be renewed in the second, third, and fourth years provided the student meets program degree requirements for eligibility and prescribed course load each fall and spring semester. This opportunity for incoming students begins in fall 2018 and continues through fall 2020.
In recent years, Drake has implemented several other programs designed to increase enrollment, retention, and career outcomes among underrepresented students, including the Crew Scholars program and Catalyst Fund.
Drake Law has been selected to participate in the national CLIC program and is partnering with Des Moines-area employers to establish the Law Opportunity Leadership Program. The program, which will begin in fall 2017, provides internships, mentorship, and leadership training for five qualified Drake Law students from underrepresented groups.
Drake's College of Pharmacy & Health Sciences has created the Discover Drake: Prepare, Research and Explore Professions (D-PREP) summer camp that introduces students to pharmacy and other health care careers and assists them in preparing for college.  The College provides scholarships for underrepresented high school students to attend this program.