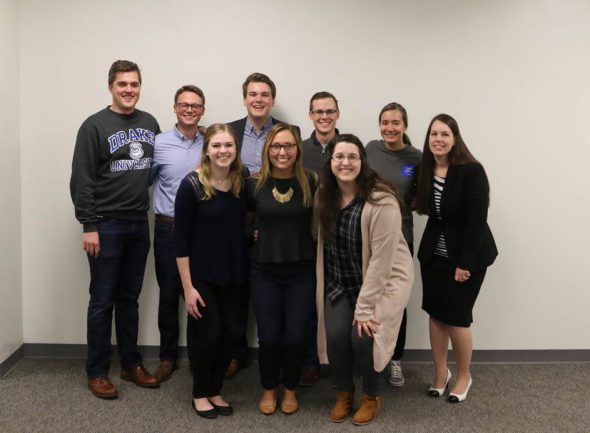 A new course in Drake's Master of Accounting program introduces students to the field of internal auditing through real-world partnerships with two community organizations.
The course taught by Assistant Professor of Practice, Jaime Grandstaff, launched this spring with eight students. She split the students into two teams, and four students apiece were assigned to complete a real internal audit for a partner organization. One team reviewed cash receipts for the Iowa Society of Certified Public Accountants, and the other reviewed employee expense reimbursements for Youth Emergency Services & Shelter of Iowa. Students worked closely with staff members at each organization to complete the audit, and provided final reports with their findings on April 17.
"This course has been really exciting to develop, and one of the most enriching experiences for the students was the 'real' internal audits that they performed with ISCPA and YESS throughout the semester," said Grandstaff, an ISCPA member and two-time Drake alumna. "We were grateful for the partnerships with these organizations and I was continually impressed with the quality of work that was completed by our Drake students."
Neal Usry, a Drake University senior set to graduate in May with a Bachelor of Accounting and a Master of Accounting, said he only had a general familiarity with internal auditing prior to enrolling in Grandstaff's course, but he found the role of internal auditors extremely rewarding from an individual and organizational standpoint.
"The most important thing to keep in mind about internal auditors is ultimately, they're adding value to the business," Usry said. "They help the organization run more efficiently and securely, and reduce risks by monitoring controls ."
Drake alumna Cindy Adams, chief executive officer for ISCPA, said the organization was proud to work closely with Drake students. Adams serves on the National Advisory Council for Drake's accounting program, and helped to foster the class partnership.
"It's a very good way for students to bridge what they're taught in the classroom with the skills we apply in the real world," Adams said. "And that practical application promotes enthusiasm about the profession. Everywhere I go, I hear about the demand for more young professionals in our field—so the fact that Drake is promoting enthusiasm toward accounting careers is very important and exciting."
Michelle Thompson, ISCPA's finance and data services coordinator, served as client contact for the students. She saw them "blossom" as the project progressed.
"The students were pretty timid at first because they didn't know what to expect or what their role was," Thompson said. "But by the end of their field work they were very comfortable, asking good questions, and their draft audit report was very  thorough."
In addition to their audits for YESS and the ISCPA, students in Grandstaff's course had the opportunity to hear from a wide variety of subject matter experts.
"The students could network and ask questions at two panel events on-campus with the chief audit executives from the top employers in the Des Moines community," Grandstaff said. Two panel sessions included auditors from Wellmark, Farm Bureau, Principal, Wells Fargo, Des Moines Public Schools, Casey's General Stores, Meredith Corporation,  MidAmerican Energy, and CHAN. "In addition, we held classes at Principal Financial Group downtown and Wells Fargo in West Des Moines, which gave students the opportunity to have an inside look at the audit teams and discuss the rewarding career opportunities in the internal audit profession."
Usry—the Drake senior who served as team liaison for the ISCPA audit—has accepted a position with PricewaterhouseCoopers in Phoenix, Ariz., following graduation. Although his first role won't be as an internal auditor, he will likely interact with professionals who serve in that role, and appreciated the opportunity to learn about that career path. He said the experience was one of many during his time at Drake that give him exceptional preparation for the workforce and the CPA exam.
"I feel like most [academic programs in accounting] are designed to prepare you for the CPA exam—that's a minimum expectation for anywhere you enroll—but at Drake, they really went above and beyond in every way you can imagine," Usry said. "Drake and Des Moines offer so many opportunities to get involved and to find things you're passionate about."