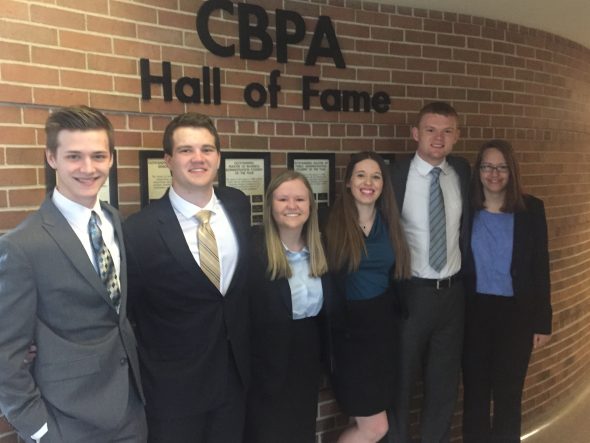 For the second consecutive year, Drake University students won a marketing competition that pits them against teams from five other Iowa universities to solve a real and timely challenge for Principal Financial Group.
Principal's Voice of the Young Consumer (VOYC) University Partnership Challenge this year asked students from Drake, University of Iowa, Iowa State University, University of Northern Iowa, Graceland University, and Grand View University, to propose a marketing campaign that would attract, retain, and engage contingent (contract) workers.
Drake's team of six students—Dustin Casey, Andrew Hamilton, Lauren Hamilton, Erin Hirter, Cort McElmury, and Caitlyn Morehouse—presented a detailed strategy based on intensive research. They advanced through two rounds of presentations, judged by panels of Principal leaders and executives, including Chief Marketing Officer Beth Brady, to come away with top honors.
"My favorite part of the challenge was getting to work on a real-world problem that a company is facing and then, from there, develop a solution and find a strategic way to implement it," said Dustin Casey, a junior marketing and information systems major from Prior Lake, Minn. "I got to work with an amazing group of students who are studying the same subjects as me, but at the same time, all brought something to the table."
The team met weekly starting in February to prepare for the April 18 competition.
"We proposed something that could potentially be the future of Principal Financial Group," said Lauren Hamilton, a sophomore marketing and management major from Des Moines. "My group's ideas were heard by some of the most influential people within the company, which is not something that college students get to say very often."
The competition was hosted at Principal's global headquarters just a few miles from Drake's campus. Christine Alberts, consumer market strategist in Principal's Global Center for Brand & Insights, helped to organize the fifth-annual event; she said preparation helped the Drake team stand out.
"Drake students did a really good job of taking a step back and looking at the issue from a consumer point-of-view," Alberts said. "They had really strong data to support their conclusions and recommendations, and didn't insert too much of their own opinions and biases."
Students also had a chance to network with six Principal recruiters who shared valuable tips for the job search process. Overall, Drake's team members said the VOYC challenge and similar experiential learning opportunities are a key element that helps Drake stand out from other colleges and universities.
"Drake CBPA has more than prepared me to excel in business," said Erin Hirter, a junior marketing manager from Savannah, Mo. "The success in this competition only shows how Drake students stand above the rest. I enthusiastically recommend Drake CBPA to anyone looking at a business college. "
"Not every school can claim they bring the classroom into the business world and vice versa to the extent that Drake's CBPA can," agreed Andy Hamilton, an actuarial science and marketing major from Maple Grove, Minn.
Students received personal mentorship from faculty in Drake's marketing program throughout the course of their work. Natalie Ross Adkins, associate professor of marketing, met regularly with the group, helped the students link their research to marketing theory, and encouraged them to develop recommendations that Principal could realistically adopt. Andrew Bryant, assistant professor of marketing, provided guidance as the team developed their research tools and methodology.
"This competition exemplifies what we mean by bringing the world into the classroom and the classroom into the world," Adkins said. "We are very proud of Drake's team, and it was exciting to see them present confidently and professionally."