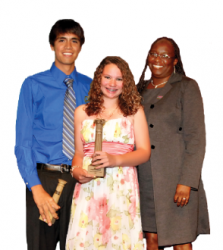 The Robert D. and Billie Ray Center at Drake University is now accepting nominations for the Iowa Character Awards, which annually recognize individuals, organizations, and communities who demonstrate good character.
This year's honorees will be celebrated during a ceremony July 21 in Altoona. The nomination form, which has been streamlined this year to be more convenient than ever, is based on the Six Pillars of Character of CHARACTER COUNTS!: trustworthiness, respect, responsibility, fairness, caring, and citizenship. Nominations are due by May 9; more information is available at IowaCharacterAwards.org. Awards are given in a variety of categories: 
Youth (ages 10-18)

Adult (19+)

Community (city, town, neighborhood or online community or a group of 3 or more individuals who share common attitudes, interest and goals)

Educator (teacher or school administrator)

School (school building or district)

Athletic team or organization (any athletic team or organization, including school teams and rec teams)

Student team or organization (scholastic teams, school clubs, and other student lead groups)

Business or Organization (nonprofit and for-profit businesses and organizations)
More information and nomination forms are available at IowaCharacterAwards.org.  Any questions can be directed to Hilary Ortmann at hilary.ortmann@drake.edu or 515-271-2915.
The 2017 Iowa Character Awards are presented by Hy-Vee, The Des Moines Register, and KDSM-TV. 
The Robert D. and Billie Ray Center, Iowa's home for the CHARACTER COUNTS! and Excellence with Integrity programs, provides character and leadership development strategies to improve civility and develop ethical leaders throughout the world. The Ray Center honors two of Drake's most respected alumni—Robert D. and Billie Ray—whose humanitarian efforts, character, and leadership set an inspirational example for multiple generations.