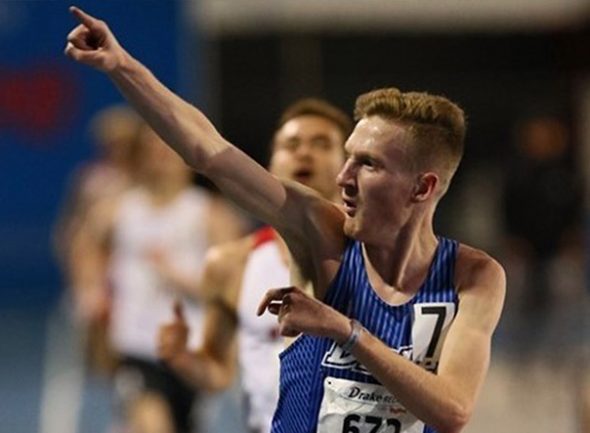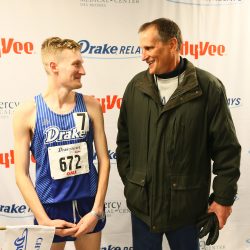 When Drake senior Reed Fischer crossed the finish line at the Drake Relays presented by Hy-Vee on Thursday, he broke a school record that has stood since long before Drake's famed Blue Oval was blue.
Fischer's time of 13:48:32 in the men's university/college division 5,000 meters shattered a 39-year-old record set by Boyd Nansel, ED'78. The lifetime-best time snagged Fischer the Relays title and placed him among the top 20 event times in Division I athletics this year.
"I've dreamed about this ever since I [enrolled at] Drake," Fischer said. "It just means a whole lot."
Nansel watched from the sidelines and ran onto the track to give Fischer a congratulatory hug as thousands of spectators celebrated the achievement.
"I just told him, 'You did great'," Nansel said. "It was time for somebody to break the record—so many good runners have competed for Drake over the years, and it's so important for Reed that he's done it."
Before taking a victory lap with his white Relays champion flag, Fischer was enveloped in a mass of fellow students and members of the news media. Fischer said it was special for him to have Nansel there to cheer him on and support a legacy of Bulldogs track and field.
"That's one of the things that makes Drake special," Fischer said. "We have a really strong track tradition, and a strong history here."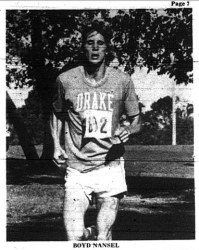 Nansel, a native of Council Bluffs, Iowa, chose to study at Drake because the Bulldogs' track and field reputation was second to none. When he enrolled in 1974, he was "a welcome surprise" to Drake's track and field squad.
"He has been outstanding [in workouts], being there every day," Coach Bob Ehrhart told The Times Delphic at the time. "He has been averaging 85 miles a week, for each week he's been in school. He's a very dedicated man."
By the fall of 1978, as a recent Drake alumnus, Nansel said he was running 16 miles per day. While at Drake he notched numerous accolades: he was a two-time MVC individual cross-country champion (1975, 1976), earned Drake's Outstanding Athlete award (1977), and was a member of the NCAA Division I All-American teams for cross country (1976) and track (1978).
Fischer, a native of Minnetonka, Minn., and a track standout at Hopkins High School, also captured Drake's attention during his freshman year. He finished 13th in the 5,000 meters at the MVC Indoor Championship and was honored at Drake with the Jim Garrison Leadership award given to an outstanding freshman student-athlete.
Since then, Fischer has set a number of career milestones. Fischer came within a hair's width of breaking the school outdoor record in the 5,000 meters last year, missing it by three one-hundredths of a second. He set the school's indoor record at the Iowa State Classic earlier this year, won the MVC title in both the 3,000 and 5,000 meters at the 2017 MVC Indoor Championship, became the 13th Bulldog to win the Missouri Valley Cross Country Championship, finished seventh at the NCAA Midwest Regionals, and finished 50th at the NCAA Cross Country championships.
In addition to his athletic achievements, the public relations and English double-major has also acquired a trove of academic awards. Following his conference title, Fischer became an MVC Elite 18 Award winner, three-time MVC Runner of the Week, and a five-time Eagle Bank MVC Scholar-Athlete of the Week this season, and was named to the MVC Scholar-Athlete team.
Nansel's record was the oldest individual outdoor school record for the track program. When Fischer was asked by a news reporter if he thought his new record would stand for decades, he said:
"I'd love to see it go down as quickly as possible. I'd love to see one of my teammates beat it. But if it lasts another 40 years, that's sweet also."
Drake's Reed Fischer breaks 39 year old school record by 14 seconds, and WINS the 5K. Looks like he had more in the tank too pic.twitter.com/aP20t1v9NR

— Michael Admire (@Admire_OnAir) April 28, 2017