Dozens of admitted students and their guests spent a day on Drake's campus this past February, experiencing life as a Drake student and joining current students in examining the changing nature of U.S. health care policy.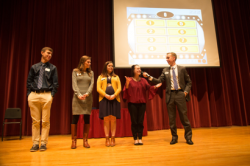 During the annual Drake University College of Pharmacy and Health Sciences Day, focusing on the theme "Cracking the Code: Revolutionizing Health Care Policy," current and prospective students heard from keynote speakers such as Iowa Rep. John Forbes and Dr. Pam Duffy, and dove deeper into a variety of breakout session topics ranging from resume development to advances in timely healthcare issues (see box below).
"Being able to participate in Pharmacy and Health Sciences Day gives admitted seniors a chance to see and feel what being part of a professional college at Drake is like," said Jessica Lang, student services and admissions liaison for the College of Pharmacy and Health Sciences. "The fact that this event is organized and planned by current Drake students shows admitted high school seniors the leadership skills they will develop at Drake."
The first keynote speaker, Iowa Rep. John Forbes, discussed the development of health care policy from the viewpoint of a legislator. Pam Duffy of Des Moines University spoke about her experience and research in cultural competency for health professionals, and measuring health care quality and efficiency.
Students attended breakout sessions on a variety of informative and intriguing topics.
PHS Day Breakout Sessions
A Day in the Life of a Health Educator and an Emergency Preparedness Coordinator, presented by Polk County Health Department's Nola Algner and Patrick Sweeney. Algner and Sweeney spoke about their roles within the Polk County Health Department and what they do on a day-to-day basis.
Is Iowa Ready for Medical Cannabis Laws? Presented by Quester researcher Brian Pins and third-year pharmacy student Katie McDaniel, this session discussed a recent study detailing Iowa voters' opinions towards both recreational and medicinal cannabis.
Occupational Therapy: Transforming Lives, Building Independence, presented by Occupational Therapist Denise Behrends, this session gave an overview of OT, common misconceptions, where the profession is going in the future, and the role of the Iowa OT Association.
Social Media and Online Presence for the Health Professional, a Q&A panel session with local pharmacy professionals and entrepreneurs, discussed the role of social media and online presence for self-branding. Panelists equipped students with tools to create and maintain an online presence for professional and entrepreneurial advancement.
A Science Background on Medical Cannabis and a General Understanding of Law, presented by Assistant Professor of Pharmacy Practice Frank Caligiuri, explored the pharmacology involved with medical cannabis as well as a general overview of laws and scheduling.
Oh, the Places You'll Go Through Telehealth, presented by Assistant Professor of Occupational Therapy Jayna Fischbach, focused on explaining the importance of services in the health field, and how those services are provided to students in rural Missouri.
Student Development Theory 101, presented by College of Pharmacy and Health Sciences Interim Assistant Dean of Student Affairs Jill Batten, touched on how students and educators can better understand student development theory and how education professionals can design high impact coursework.
Resume Basics: How to Sell Yourself on Paper and CV, presented by Professional and Career Development Services Coordinator Kate Evans, addressed the "do's and don'ts" of resume and CV writing.
In addition to programming, the day also included presenting and honoring alumni for their exceptional contributions to the college, distinction in their careers, and/or civic and community contributions.