From an independent pharmacy in Chicago to a potential new patent for the industry, PharmD alumni and students are putting their business and patient care innovative ideas into practice thanks to efforts of the DELTA Rx Institute.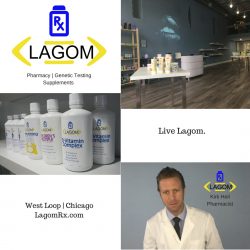 Kirk Heil, PH'08, helps patients tackle their health issues on all fronts. He begins with fitness and nutrition, encouraging modifications based on lifestyle choices or genetic predispositions. Once a patient has made adjustments, Heil can better identify the most effective dosage of medication. His pharmacy, Lagom Rx, gets its name from the Swedish word meaning "just the right amount," and his goal is for patients to receive just the right amount of medication.
"When I first interned in retail pharmacy, patients were just getting a pill or medication to treat their symptoms rather than trying to improve themselves," he says. "It's saying, "You're not doing anything wrong; here's a pill.'"
Heil presented his lifestyle-based pharmacy model at the Drake Entrepreneurial Leadership Tools for Advancement (DELTA Rx) Institute's Next Top Entrepreneur Competition when he was a 21-year-old PharmD student.
"[The competition] really helped accelerate me to start thinking differently," he says. "It gave me a feeling that my ideas are worth it."
DELTA Rx, a College of Pharmacy and Health Sciences initiative launched in 2005, promotes entrepreneurial leadership to advance the profession and improve patients' lives. The institute's website hosts a vast reservoir of resources and tools, and its Next Top Entrepreneur Competition develops creativity and problem-solving through business plan presentations and feedback from visionaries. DELTA Rx also connects PharmD students to internship opportunities with a focus on innovation.
All of these elements come together to foster and sustain creative business thinking in the pharmacy program. According to Heil, startups tend to die unacted upon no matter how enthusiastic their backers are initially. Dean Renae Chesnut and others involved in the program, he says, kept him pushing forward, routinely checking in on his project and progress.
"It wasn't that we did a competition this one weekend, now let's move on," he says. "It was an engagement."
Today his one-year-old Lagom Rx is one of the few independent retail pharmacies in Chicago, distinguishing itself with a holistic approach to patient care. Heil has expanded past his original business model to include his own line of vitamins and supplements and access to genetic testing for his patients.
The Next Top Entrepreneur Competition continues to shape the pharmacy curriculum at Drake. Jacob Schnackenberg, a PharmD/MBA candidate, has participated in the competition for the past four years, taking first place in the past two. His ideas have included an augmented reality app called "OJO." When users hold their phone's camera to the front of a medication's package, a red X will appear if the product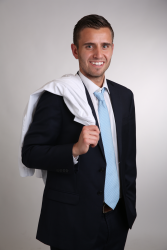 conflicts with pre-existing medical conditions or other medications. A green checkmark will appear if the product is safe for that individual. He has been in contact with app developers in Silicon Valley to explore production.
His ultimate goal and the mission of the program line up perfectly.
"My passion is trying to find ways that pharmacy can be improved with innovation and the introduction of technology," Schnackenberg says.
At the most recent competition, Schnackenberg presented a product called CensorTape. It is a black, body-heat sensitive tape that covers prescription labels on pill bottles to increase privacy. When warmed in a patient's palm, the tape turns clear. Schnackenberg has submitted provisional paperwork in hopes of securing a patent.
His idea has grown since its conception. He next wants to try adding a scent for patients with visual impairments or even dementia as well as the option for color customization to differentiate medication between family members—ideas he is incorporating into his products long after the final day of the Next Top Entrepreneur Competition.
This is DELTA Rx's purpose. The program aims to supplement an entrepreneurial way of thinking to the traditional pharmacy education that will be an asset to students even after they leave Drake campus.
"Pharmacy students don't normally use this part of their brain in a PharmD curriculum," Schnackenberg says. "At Drake and through DELTA RX, students really do use creativity and a different part of their brain."
Visit drake.edu/deltarx for more information and to explore online entrepreneurial leadership resources and tools.