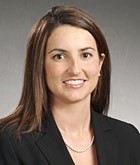 Nichole Hayden, a 2004 Drake Law School graduate and of counsel at Nelson Mullins Riley & Scarborough LLP, will discuss "Protecting Mobile Apps and Software—Patent Considerations for Startup Companies and Entrepreneurs" on April 20, 5 p.m., in Cartwright Hall, Room 206.
The lecture, which is the final event of the Drake Intellectual Property Law Center's Big IDEA Speaker Series, is free and open to the public.
During the event, Hayden will provide a review of Section 101, patent eligibility cases since Alice Corp. v. CLS Bank International, and the U.S. Patent and Trademark Office's guidelines as they relate to the patentability of software and mobile apps.
The lecture will also cover how the courts are applying the framework of Alice to software inventions, the challenges involved with and likelihood of obtaining software patents, and the invalidity risks involved in patent litigation.
"I'm excited to host Nichole Hayden as the final speaker in our 2016-2017 lecture series," said Shontavia Johnson, Kern Family Chair in Intellectual Property Law and director of the Drake Intellectual Property Law Center. "Her depth of knowledge will offer a wonderful perspective to our community of students and attorneys. It is also great to welcome a Drake Law alumna back to Des Moines."
Hayden focuses on intellectual property law at Nelson Mullins Riley & Scarborough LLP in Greenville, S.C. A registered patent attorney, her practice primarily involves patent and trademark prosecution, opinion work, and advice, as well as intellectual property licensing, transfers, and due diligence.
Hayden first worked for Nelson Mullins from 2004 until 2012, when she accepted a position as general counsel to a privately-held, start-up software company as its first in-house lawyer.
As general counsel, she was tasked with not only growing the company's intellectual property portfolio, but also creating the first overall legal structure and organization for the company. She managed all legal matters for the company, including intellectual property, corporate, regulatory, licensing, litigation, and labor and employment.
In 2015, Hayden returned to private practice with Nelson Mullins and serves as outside general counsel to her former employer as well as other clients.
The lecture has been approved for 1.0 CLE hour (Activity ID Number: 258529).
---
The Drake Intellectual Property Law Center was created in fall 2007 to promote global, interdisciplinary understanding of intellectual property law and policy. The center was established with the support of a $1.5 million gift from Wayne, LW'72, and Donna Kern, which endowed the Kern Family Chair in Intellectual Property Law, and a $750,000 leadership commitment from DuPont Pioneer.
Launched in fall 2016, the Big IDEA Speaker Series brings renowned intellectual property law experts to Drake University's campus to share their ideas about innovation and entrepreneurship.
Learn more about the Intellectual Property Law Center.