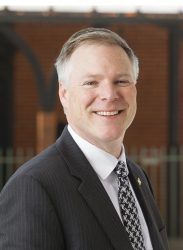 Drake University Provost Sue Mattison announced today that Daniel Connolly, PhD, has been named dean of the Drake University College of Business and Public Administration, effective June 30, 2017.  Connolly was named to the role after an international search performed by an internal search committee comprised of faculty, administrators, staff members, students, alumni, and a member of the Board of Trustees.
"Connolly's extensive experience in higher education and industry will serve Drake University and the College of Business and Public Administration well," Provost Mattison said. "Throughout his accomplished career, he has emphasized ethics, social responsibility, sustainability, entrepreneurial thinking, and numerous other values that we prize in university leadership. It is my great pleasure to welcome him to the Drake family."
Connolly has more than 20 years of higher education experience, including roles in teaching, research, and administration. He also enjoyed success in the tourism and hospitality industry, where he applied information technology solutions to help organizations achieve competitive advantage, create memorable guest experiences, enhance customer service, reduce costs, and maximize revenue. He served as dean at Portland State University, where he oversaw nearly 100 faculty and staff members and 4,500 students in eight degree programs, with traditional, online, and hybrid delivery formats. He led efforts to redesign and create new academic programs, including the creation of a Master of Science in Data Analytics, and helped lead the undergraduate business program to a national ranking for the first time in history. He also has a history of proven results in leading fundraising, student recruitment, and AACSB accreditation efforts.
"Drake's emphases of academic quality and experiential learning are big pluses for me, because they speak to my own values as an educator and leader," said Connolly. "With its location in Des Moines, Drake is doing a lot to connect students with industry—and there are all sorts of possibilities to expand, which is exciting."
Connolly received his PhD in strategic management from Virginia Tech in 1999, an MBA from American University in 1989, and his bachelor's in hotel/restaurant management and information technology from Cornell University in 1987. He worked for Marriott Corporation in a variety of information systems and project management roles from 1987 to 1994.  An accomplished teacher, Connolly has served on the faculty of Portland State University; Daniels College of Business at the University of Denver, where he also served as senior associate dean; The Eli Broad College of Business at Michigan State University; and the College of Human Resources and Education at Virginia Tech. His numerous awards and recognitions include the distinction of Outstanding Faculty Member of the Year at Daniels College in 2008, a 2009–2010 Outstanding Recent Alumnus from the Pamplin College of Business at Virginia Tech, and an MBA Redesign Committee Award for Outstanding Service from Daniels College in 2015.
"Drake's College of Business and Public Administration enjoys an impressive and distinguished reputation and is known as an innovative leader in collaborative and experiential learning, and the integration of liberal arts and sciences with professional preparation," Connolly said. "I am inspired by the quality of the faculty and staff, and the enthusiasm and engagement of the students; those individuals, combined with the positive momentum that I see from the college overall, are what excite me the most about the opportunity to serve as dean."