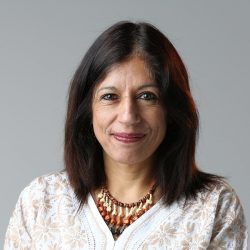 A columnist for The Des Moines Register whose byline has appeared in The New York Times, The Nation, USA Today, India Today and The International Herald will deliver a free lecture at Drake University this month.
Rekha Basu will discuss her work as a journalist, including her experiences writing about issues of social justice and human rights, at 7 p.m. Thursday, April 20, as part of the Susan Glaspell Writers and Critics Series at Drake University. The lecture will be held in the Reading Room of Drake's Cowles Library, 2725 University Avenue. The event is free and open to the public, advance registration is not required.
Basu was born in India, raised internationally, and graduated from the United Nations International School. She has worked as a reporter, editorial writer, and columnist at newspapers in Iowa, New York State, and Florida. She has made guest appearances on national outlets including BBC, C-SPAN, and National Public Radio, and is a frequent keynote speaker on global affairs, race and gender issues. She has written for The Des Moines Register since 1991 and she appears weekly on the "Rekha's Voice" segment of Great Day on KCWI-TV. Basu is also the author of the book, Finding Her Voice: A Collection of Des Moines Register Columns About Women's Struggles and Triumphs in the Midwest (Pediment Publishing, 2012).
Visit https://wwww.drake.edu/english/susanglaspellwriterscriticsseries/ for more information about the Susan Glaspell Writers & Critics Series.