PRSSA selling SJMC sweatshirts
The Drake chapter of the Public Relations Student Society of America is selling SJMC sweatshirts for $25. This year's shirts are navy blue with white lettering. Pre-orders will be taken until April 5. Orders can be placed through this link: http://bit.ly/2ohr2qG.
Digital media production student wins 2 Emmys
SJMC sophomore Anna Steenson has won two first-place Emmys in this spring's Academy of Television Arts and Sciences Upper Midwest Region contest. Steenson won awards in the public affairs/community service and editing categories.
PR senior Leatherman selected as Fulbright Scholar
Public relations major Kelly Leatherman has been selected as a Fulbright Scholar. Leatherman will spend her scholarship year in Malaysia, after which she intends to attend law school.
A Fulbright Scholars Celebration will be held Thursday, April 6, 2-5 p.m. in the Cowles Library Reading Room. The event will include a presentation by former Fulbright Scholar Ellie Bastian (JO'10) about the documentary she filmed in Russia. Advertising professor Dorothy Pisarski will moderate a discussion on the Fulbright Project research experience.
Welcome to PR Week!
Drake PRSSA is sponsoring PR Week this week. Events, which are open to all majors, include:
Monday 4/3: Shelby Cravens from the Iowa Cubs speaks at 5 p.m. in Mer. 101
Tuesday 4/4: Resume and portfolio review with Drake grads at 6 p.m. in Mer. 104
Wednesday 4/5: Professional panel with recent Drake grads at 5 p.m. in Mer. 101
Thursday 4/6: Professional networking from 4:30-6 p.m. at Americana downtown
Friday 4/7: Agency tours of Two Rivers Marketing and Strategic America from 2-5 p.m.
Contact meghan.kearney@drake.edu for questions about transportation to off-campus events.
Get involved in Drake Relays coverage
Drake Broadcasting System will hold an informational meeting for students interested in joining the annual Drake Relays production on Tuesday, April 4, at 8 p.m. in the TV studio in the basement of Meredith. Everyone is welcome; no experience is necessary. Reach out to gerald.tetzlaff@drake.edu with questions.
Sign up for free 360-degree video workshop
Professor Chris Snider will lead a workshop on 360-degree cameras on Wednesday, April 5, from 6-9 p.m. in Meredith 124B. Attendees will create a 360-degree video in groups that will be ready to post on social media by the end of the workshop. This is the final event in the SJMC's spring workshop series and is free for Drake students. RSVP here.
Student recognition reception set for April 9
The annual SJMC student recognition reception to honor SJMC award and scholarship winners will be Sunday, April 9, 4-6 p.m. in Levitt Hall of Old Main. Come have a snack and celebrate our successes. Business dress suggested.
Study abroad participants reunite for 'The Zookeeper's Wife'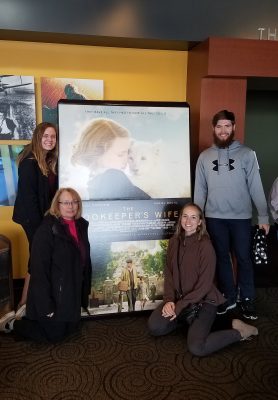 Clockwise from bottom left, professor Dorothy Pisarski, advertising major Julianna Baalson, sociology major Lucas Petrakis and neuroscience major Mallory Karr.
Participants in a 2015 May term seminar to Poland, Germany and the Czech Republic gathered on opening weekend to watch the movie "The Zookeeper's Wife." The class read the book prior to their trip, and retraced the steps of the protagonists.
Project Vote Smart to hold opening celebration on April 10
Project Vote Smart, a nonpartisan national political research organization, is holding an open house on Monday, April 10, to celebrate its relocation to Drake. The event will be from 5-7 p.m. at the Project Vote Smart offices, 1153 24th St. In attendance will be media, members of the Project Vote Smart board, Drake faculty, President Marty Martin, as well as members of the Des Moines Chamber and other community groups. The open house will  be an opportunity for Drake students to network and find out more about the organization's tools and internships.
Did you see our big announcement on April 1?