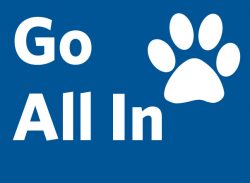 Drake University invites all members of the Drake community, including 75,000 alumni around the world, to participate in the university's fourth annual All In campaign. The 24-hour giving campaign begins at noon Tuesday, April 4, and runs through noon Wednesday, April 5; contributions of any size help ensure the future of Drake.
Drake community members are invited to participate in the following ways:•
All In 2017 Challenges and Incentives
Doug Zinser, AS'96, will contribute $30,000 to The Drake Fund in support of the All In Campaign if the university reaches its goal of $100,000 in 24 hours.
Spike's challenge – An anonymous donor will contribute $15,000 to The Drake Fund in support of the All In Campaign if 500 donors contribute (at any giving level) in 24 hours.
All donors will be entered in drawings to win a lunch with President Martin, or a package including Drake University swag, two Drake Relays single-session tickets and VIP tent passes.
Video Challenges (look for these on Facebook, Twitter, and Instagram throughout the campaign):
Drake Trivia Ride – In honor of her 100th birthday next month, longtime Trustee Fran Kinne, FA'40, FA'44 will contribute $5,000 to the All In Campaign if this video is shared 100 times.
Physically All In – Go All In with your friends! If 100 people are tagged in the comments section of this video, Michael Gersie, BN'70, will give $5,000 to the All In campaign.
Faculty Never Have I Ever – If 100 people mention their favorite professor in the comments of this video David Golder, FA'79, Chairman of the Drake University Board of Trustees, will give $5,000 to the All In campaign.
Carting on Campus with President Martin – If the video gets 100 reactions (like, love, haha, etc.) Ike Vanden Eykel, BN'71 and Cathy Vanden Eykel will contribute $5,000 to the All In campaign.
Student Challenge
All gifts made during the campaign by current Drake students will be matched by The Caldbeck Challenge. The Diane K. Caldbeck Student Philanthropy Challenge was funded through the generosity of Kelly Caldbeck, PH'01, Peter Caldbeck, JO'03, and Megan Caldbeck, JO'05 in honor of their mother, longtime Drake employee Diane Anagnos Caldbeck, ED'72. The endowment serves as an annual incentive to students at Drake as they work to inspire their peers to develop a culture of philanthropy.
Facebook Live Challenges
Follow along on the All In Facebook page for two additional challenges that will be revealed during the campaign.
Campus Challenges
All members (students, faculty, and staff) of the campus community who give during the campaign will be entered into a drawing for a homemade pie hand-delivered to their office from Provost Mattison. The drawing will be held at the April 4 social event and you must be present to win.
Staff member Niki Smith, JO'08, GR'15, will donate $1 for every faculty and staff who give during the campaign.