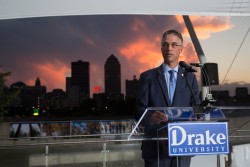 Des Moines, Iowa— Top officials from Drake University and the Republic of Kosovo will hold a signing ceremony on Wednesday, April 5, to formalize a new partnership between the private Midwestern university and the nation in Southeastern Europe.
Marty Martin, president of Drake University, and Prof. Dr. Arsim Bajrami, minister of education, science, and technology for the Republic of Kosovo, will sign a memorandum of understanding at 3:15 p.m. in Drake University's Alumni House. The renewable, five-year partnership emphasizes a shared commitment to academics, community service, and global citizenship, and outlines a number of specific programs and initiatives that Drake and Kosovo could embark upon together, including faculty and staff exchanges, student exchanges, research collaboration, and training and professional development activities.
Drake is well-positioned through community and corporate partnerships, global subject matter expertise, and knowledge of international program development to adapt to meet the specific needs of a relatively new nation. Kosovo declared independence from Serbia in 2008 and now has three U.S. consulates, one of which is in Des Moines—just a few miles from Drake's campus. Drake officials have met in recent months with staff at the consulate, to discuss a multitude of potential partnership opportunities in areas including food policy, economic development, and education. Wednesday's visit by Kosovo's education minister provides an opportune time to formalize an agreement.
"Drake University is committed to making a positive and tangible impact in each of the communities in which we operate—from our hometown of Des Moines to those many regions of the world where we have global partnerships," Drake University President Marty Martin said. "Drake's new partnership with the Republic of Kosovo affords our students, faculty and staff members, and alumni the potential to learn, develop, and serve in ways that we are beginning to explore and that we have yet to imagine."
One particular area of interest for Kosovo is professional development for teachers and school administrators, as the nation continues to develop its education system. In 2015, Drake collaborated with Des Moines Public Schools to develop a special master's program that is tailored to meet the district's needs; Kosovo is interested in a similarly customized program, among other potential education partnerships.
"This will be mutually beneficial, and both parties will support and implement different projects, exchanges, and scholarships," said Xhavit Gashi, consulate general for the Consulate of the Republic of Kosovo. "While Kosovo will have the opportunity to learn from the best, Iowa will benefit from the opportunity of international experience [while making] an important impact on the development of education in Kosovo."
Drake has myriad international partnerships through which students, faculty, staff, and alumni help to meet the immediate community needs of the University's global partners. For example:
More than 200 recent Drake graduates have lived and worked in China teaching English for a year through Drake's Teach in China program.
Students in Drake's Leadership Education and Development (LEAD) program spend six to eight weeks with global nonprofit organizations during a senior year capstone project.
Drake recently celebrated the 10-year anniversary of its partnership with Makerere University Business School in Uganda, through which students at Drake and in Uganda have collaborated on sustainable service projects including the creation of a health clinic; a school computer lab; and Dream On, a club aimed at empowering young girls.
Drake recently was accepted for the second year as a host institute for the Mandela Washington Fellowship for Young African Leaders, a program of the U.S. Department of State that welcomes 1,000 exceptional young leaders from sub-Saharan Africa to the United States for a six-week period each summer.
Visit www.drake.edu/international to learn more about Drake University's internationalization and global engagement efforts, study abroad opportunities, and academic programming.