Inspiring love for Drake University is nothing new for Diane Caldbeck, ED'72, associate vice president for alumni and development. It's what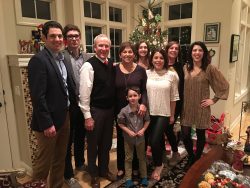 she's done for the past 29 years as a Drake employee, alumna, parent, and leader.
This year, Diane's commitment to Drake will again serve as motivator for the University community as "The Caldbeck Challenge" will be used for the first time during All In, the University's 24-hour giving campaign on April 4-5, noon to noon.
Diane's three children, Kelly, PH'01, Peter, JO'03, and Megan, JO'05, established an endowed fund in 2011 to create The Caldbeck Challenge in honor of her legacy at Drake and to encourage student philanthropy.
"Our mom is passionate about Drake and inspiring alumni to find joy in giving back to the University," says Megan. "We wanted to make a gift that would be meaningful to her and would set an example for Drake students."
Now fully endowed at $25,000, The Caldbeck Challenge will match student giving in a specific area each year up to $1,250, demonstrating the power of collective giving.
"Together, my siblings and I were able to make an impact on Drake that none of us could have made on our own," says Kelly. "We hope the challenge shows students how every gift can make a difference at Drake when paired with the support of their peers."
During the 2017 All In campaign, the Caldbeck Challenge will match student giving to The Catalyst Fund, which was created by faculty to provide scholarships that encourage diversity and inclusion on campus and create an emergency fund for students with demonstrated financial need.
"I'm proud of my children's commitment to Drake and their willingness to support an institution we all love," says Diane. "I hope this challenge causes students to reflect on their own relationships with Drake and motivates them to engage in philanthropy and make a difference in the world—now and throughout their lives."