In early March, Drake graduate Al McCoy, FA'54, became the first sports broadcaster inducted in the Phoenix Suns' Ring of Honor. Now in his 45th year as a broadcaster and announcer for the NBA's Western Conference Pacific Division team, McCoy can still name the Drake professors and courses that put him on the court.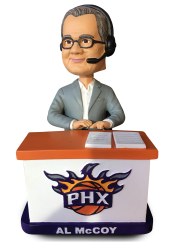 "I really think that about every memory I have from Drake is very positive," McCoy says.
He remembers the constructive mentorship and coaching he received at Drake, which fueled his broadcasting interests and turned a passion into a career.
McCoy, who is known for his catchphrases—most notably Shazam! whenever a Suns athlete sunk a three-pointer—said he has always had an interest in sports. The family radio he listened to as a child drew him into the broadcasting world and instilled a desire to become like his idols on the airwaves.
Jim Duncan, the only broadcasting professor at the time, and McCoy connected early in McCoy's freshman year. Their mentorship started shortly after McCoy asked to borrow a recorder. Duncan was hesitant to let the young student borrow the university's equipment. It was unusual for professors to give underclassmen expensive gear and a spot on the sidelines.
McCoy says he "kept with him" until Duncan relented and called Paul Morrison, JO'39, to get him a place on the court. McCoy recorded the game and brought his work to Duncan for feedback. After a few long weeks, McCoy forgot about his request and was surprised to get called into Duncan's office.
"I was thinking, 'what did I do now?'" McCoy says. "Duncan asked me how long I'd been broadcasting basketball. I said I never have."
His professor went on to tell young McCoy that his first attempt at broadcasting was the best he'd ever heard—even compared to seasoned Iowan professionals. McCoy credits Duncan with teaching him practical lessons designed to prepare him for the professional world.
"I've always said that Professor Duncan was terrific because he prepared us for the real world," McCoy says.
With Duncan's coaching and advice, McCoy worked at multiple radio stations over his four years at Drake, including KJFJ in Webster City and WHO (AM) in Des Moines.
McCoy was also a member of the social fraternity Theta Chi and the radio arts fraternity, Pi Beta Epsilon. On top of work and Greek life, he acted in a few theater productions and found time to refine his piano-playing skills.
"I was a busy guy," he remembers.
McCoy can still be spotted occasionally around campus. Once a year, he makes the trek from Arizona to visit his alma mater. He's come for Relays in the past, but he's more often now a spectator on the sidelines of a Bulldogs football or basketball game.
It is unlikely he will return to Des Moines permanently. As he continues on his career as the "Voice of the Suns" and the longest tenured NBA broadcaster of all time, McCoy has no plans to slow down.
"I still enjoy the game and I enjoy painting word pictures," he says. "As long as I can talk and walk, I'll try to continue. I take it a year at a time."
The Suns Ring of Honor is an award given to players and employees with the Suns and recognizes honorees for their role in the organization. McCoy is the fifteenth member of the Suns Ring of Honor and the first broadcaster ever to be inducted. He also won the Curt Gowdy Media Award in 2007, is a member of the Broadcasters Hall of Fame and the Iowa Hall of Pride, and the team has made honorary bobbleheads in McCoy's likeness…twice!
Shazam!