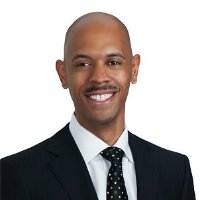 Charles Monterio Jr., a 2004 Drake Law School alumnus and intellectual property partner at Blank Rome LLP in Washington, D.C., will discuss patent litigation strategy as part of the Drake Intellectual Property Law Center's Big IDEA Speaker Series.
The lecture, titled "Strategy & Tactics in Patent Litigation – What You Didn't Learn in Law School or From a Book," is March 30 at 3 p.m. in Cartwright Hall, Room 201. It is free and open to the public.
Before a patent litigation begins, both potential plaintiffs and defendants must make decisions. For plaintiffs, issues include the extent of pre-suit investigations, which defendants to sue, and how aggressively to pursue the case. For defendants, issues include whether to negotiate, initiate a proceeding in the U.S. Patent and Trademark Office, or file a declaratory judgment action.
In this lecture, Monterio will discuss his views on many of the judgment calls that should be made when there are no answers in the books.
The event has been approved for 1 hour of CLE credit (Iowa Activity ID Number: 253628).
Monterio has litigated complex patent litigation cases from pre-suit investigations to trials and appeals. He also has extensive experience in patent-related strategic counseling and post-grant proceedings before the U.S. Patent & Trademark Office. His practice has embraced a wide range of technologies, including manufacturing processes, medical devices, electronic devices, and computer software.
Previously, Monterio was a judicial intern with The Honorable Gerald Bruce Lee of the U.S. District Court for the Eastern District of Virginia, where he handled issues such as the Federal Death Penalty Act and the Federal Torts Claims Act. He also served on a U.S. Senate Committee conducting legal policy studies on intellectual property and biotechnology and worked in Office of Iowa Gov. Tom Vilsack.
Monterio was selected as a 2013 Fellow for the Fellows Program of the Leadership Council on Legal Diversity. He was also named a "Rising Star" by Washington, D.C. Super Lawyers, and has been honored on the National Law Journal Plaintiffs' Hot List and the Lawyers of Color Hot List.
---
The Drake Intellectual Property Law Center was created in fall 2007 to promote global, interdisciplinary understanding of intellectual property law and policy. The center was established with the support of a $1.5 million gift from Wayne, LW'72, and Donna Kern, which endowed the Kern Family Chair in Intellectual Property Law, and a $750,000 leadership commitment from DuPont Pioneer.
Launched in fall 2016, the Big IDEA Speaker Series brings renowned intellectual property law experts to Drake University's campus to share their ideas about innovation and entrepreneurship.
Learn more about the Intellectual Property Law Center.