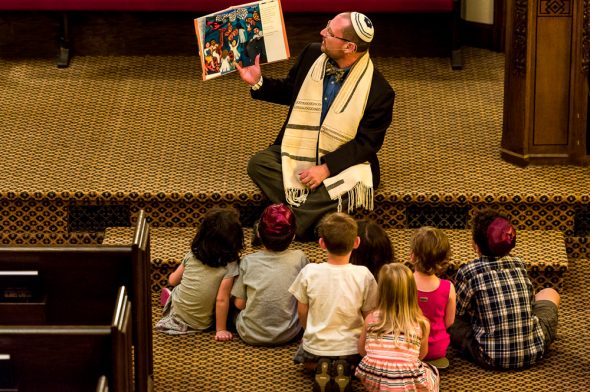 DES MOINES, Iowa (March 14, 2017)— Local and national news cycles have been dominated in recent weeks by incidents of hate speech, vandalism, threats and other forms of religious intolerance toward multiple faith groups. In the context of such intolerance—which run contrary to our state's history and values—Iowans from all faiths and belief systems will come together next month to discuss the past, present, and future of interfaith activity and dialogue here in Iowa.
From April 6-8, Drake University will host the Iowa Interfaith Exchange, a free series of more than 50 presentations, panels, and performances on the current state and future promise of interfaith activity in the state of Iowa. Topics will include campus interfaith practices and principles, community interfaith movements and organizations, diversity and inclusion efforts in Iowa businesses and schools, multicultural and inter-cultural education, social and political activism in the state of Iowa, and meditation practices and cultural performances.
"Engaging with people of other faiths has never been more important in our community than it is right now," said Rev. Sarai Schnucker Rice, Executive Director of the Des Moines Area Religious Council. "We envision the Iowa Interfaith Exchange as an opportunity for the entire community of Greater Des Moines – and to a larger extent the entire state of Iowa – to talk with one another and learn from our shared perspectives and cultural differences."
Events begin the evening of Thursday, April 6, with the launch of A Spectrum of Faith: Religions of the World in America's Heartland (Drake Community Press, 2017). The book launch will feature a keynote presentation by Eboo Patel, founder of Chicago-based Interfaith Youth Core, as well as panel discussions featuring the authors and communities which appear in the book, and a behind-the-scenes documentary on the creation of the book.
The first day of breakout sessions begins on Friday, April 7, at 11:30 a.m. with a kick-off lecture by Patel. Members of Interfaith Youth Core, in collaboration with Drake University and Simpson College, then structure breakout sessions on Friday afternoon and all day Saturday. A Friday evening reception at the Des Moines Social Club follows the Friday afternoon programming. And, a concluding presentation by Interfaith Youth Core wraps up the conference late Saturday afternoon.
"Iowa has a proud history as a state that is welcoming to refugees and accepting of all forms of diversity," said Tim Knepper, professor of philosophy and director of The Comparison Project at Drake University. "It is vitally important that we come together—particularly now, when religious pluralism has increasingly become a source of discomfort among some Americans—to discuss our challenges, and affirm our commitment to living together as friends and neighbors."
Registration for the Iowa Interfaith Exchange is free and available online. Snacks and light breakfast fare will be provided. Lunches will be catered each day by a Des Moines refugee community for a suggested donation.
The Iowa Interfaith Exchange is sponsored by the Des Moines Area Religious Council, The Comparison Project at Drake University, Drake University Press, Drake University, Simpson College, The Slay Fund for Social Justice, and Cultivating Compassion: The Dr. Richard Deming Foundation.
*******
DMARC is the acronym for the Des Moines Area Religious Council, an interfaith organization with a core membership of nearly 130 congregations from four faith traditions. Recipient of the 2012 Live United Advocate Award from the United Way of Central Iowa, DMARC provides a common means of responding to basic human needs and a context for interfaith dialogue.