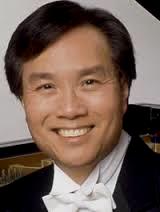 Alan Chow, professor of piano at the Bienen School of Music at Northwestern University, will present the next concert of Drake University's Keys to Excellence Piano Series. The free performance is scheduled for 7:30 p.m. Monday, March 6, in Sheslow Auditorium, featuring the following selections:
Joseph Haydn: Sonata No. 52 in E-flat Major, Hob. XVI/52
Franz Liszt: From Annees de Pelerinage, "Suisse"
Vallee d'Obermann
Frédéric Chopin: Barcarolle, Op. 60
Nocturne in C-sharp minor, Op. Posthumous
Sonata No. 2 in B-flat Minor, Op. 35
Chow will also present a public masterclass at 2 p.m. Sunday, March 5, in Sheslow Auditorium. Tickets are not required for the concert or masterclass.
Acclaimed for his "elegant poetry and virtuosic fire," Chow has won first prize in the Concert Artists Guild International Competition, the UCLA International Piano Competition, and the Palm Beach Invitational International Piano Competition. Winner of the Silver Medal and Audience Favorite Prize at the Gina Bachauer International Piano Competition, he was also a prize winner in the William Kapell International Piano Competition.
A Steinway artist, Chow has performed in recital and in concert with orchestras from coast to coast in 45 states. His recitals have brought him to the major music centers including New York (Lincoln Center, Merkin Hall, Steinway Hall), Boston, Los Angeles, Chicago (Symphony Center and Ravinia), Washington, D.C., Cleveland, Seattle, Atlanta, New Orleans, and Miami. Concerto performances include appearances with the National Symphony, Utah Symphony, Oakland Symphony, Tulsa Philharmonic, Kansas City Symphony, and Omaha Symphony. Chow regularly tours Asia with performances in China, Japan, Hong Kong, Taiwan, and Singapore, including performances with the Hong Kong Philharmonic and the Pan-Asia Symphony. An avid chamber musician, he has collaborated with the American, Pacifica and Miami String Quartets and has been guest artist at the Grand Canyon Chamber Music Festival, Juneau Jazz and Classics, San Juan Islands Chamber Music Festival, Kent Blossom Music Festival, Texas Music Festival, Music Festival of Arkansas and Music Mountain. In addition, he appears in joint recital engagements in the Cheng-Chow Trio with pianists Angela Cheng and Alvin Chow.
Also in demand for his teaching, Chow has given master classes throughout North America and Asia at conservatories, universities and summer festivals including the Eastman School of Music, Indiana University, New Orleans International Piano Festival, Gina Bachauer International Piano Festival, Las Vegas Piano Festival, Tunghai International Piano Festival (Taiwan), and in Singapore. Appointed guest professor at the Central Conservatory in Beijing and honored visiting professor at the Shenyang Conservatory, he has also presented recitals, master classes, and lectures in China at the conservatories in Shanghai, Chengdu, Xian and Wuhan.
Chow studied with Nelita True at the University of Maryland where he graduated co-valedictorian with his twin brother Alvin, and received the Charles Manning Prize in the Creative and Performing Arts given to the outstanding graduate; with Sascha Gorodnitzki at The Juilliard School where he was awarded the Victor Herbert Prize in Piano; and with Menahem Pressler at Indiana University where he was the recipient of the Joseph Battista Memorial Scholarship. He also studied at the Mozarteum Sommerakademie with Carlo Zecchi.
The Keys to Excellence Piano Series was created to raise awareness of Drake's fundraising efforts for the purpose of 70 brand new Yamaha pianos for the music department. It brings internationally acclaimed artists to perform on the Yamaha CFX concert grand at Drake University.
The series is supported by Yamaha, West Music, Civic Music Association, and Drake University. For more information, contact Nicholas Roth at 515-321-5947 or nicholas.roth@drake.edu.