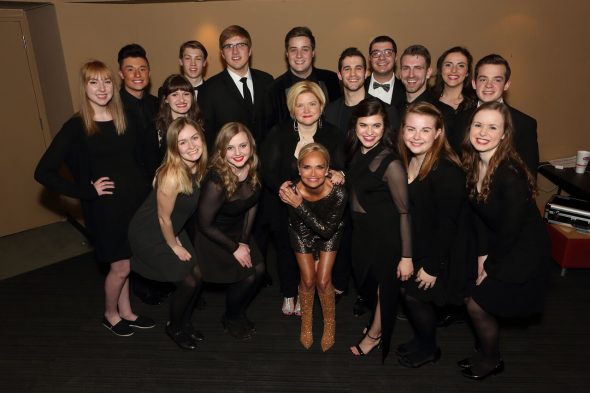 Eight Drake musical theatre students had a Wicked cool opportunity last weekend when they performed with Broadway star Kristin Chenoweth at the Des Moines Civic Center.
Chenoweth is a Tony Award-winning actress and singer best known for originating the role of Glinda in Wicked, performing as Sally Brown in You're a Good Man, Charlie Brown, and for roles in The West Wing, Pushing Daisies, and Glee. The following students shared the stage with Chenoweth, as well as eight students from Des Moines area high schools, in front of a crowd of more than 2,500 people:
Haley Ashlin, senior, Eau Claire, Wis.
Chris Bernard, senior, Bloomington, Minn.
Zachary Decker, senior, Island Lake, Ill.
Adam Dooley, senior, Guthrie Center, Iowa
Hank Fisher, junior, Boise, Idaho
Naomi Jackson, senior, Mound, Minn.
Madeline McKeown, junior, Oshkosh, Wis.
Christina Stai, junior, Lincoln, Neb.
For these students, the opportunity to sing with a Broadway star was an inspiration—to say the least.
"Kristin Chenoweth when I was growing up is what ignited in me a passion for musical theatre," said Ashlin, a BFA musical theatre major with a minor in business studies. "I would listen to her tracks on the Wicked soundtrack over and over again while reading about her in Wicked: The Grimmerie. I felt a connection with her pingy voice and small stature, as those were two qualities I possessed and grew up feeling self-conscious about. Kristin Chenoweth capitalized on those qualities which made me believe I had a fighting chance in this industry."
Chenoweth was extremely kind and welcoming during rehearsals, where she reassured students that the most important thing was to have fun and create a stage experience that everyone, the performers included, could be proud of.
"I've always thought that Kristin Chenoweth was one of the most influential musical theatre actresses of my time," said Jackson, a BFA musical theatre and politics double major. "Kristin made everyone feel at ease when singing with her, and it was so amazing to sing with someone who I've looked up to my whole life."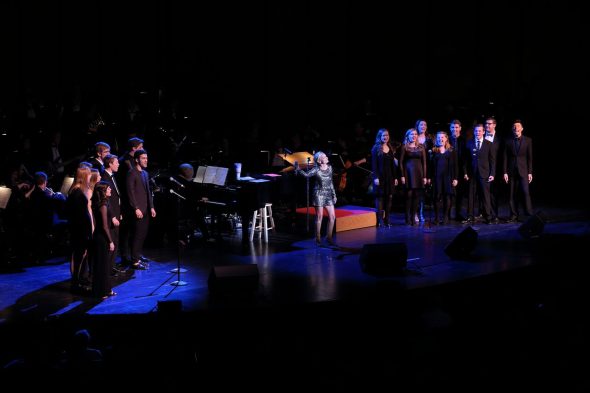 The popularity of Drake's musical theatre program has skyrocketed in the past decade, in part due to opportunities that students have on campus and in the Des Moines arts community, said Associate Professor Karla Kash, head of the musical theatre program here at Drake.
Not only are there a breadth of on-campus and local opportunities, but in January 2016, a group of musical theatre majors traveled to New York City to work with Broadway composer Andrew Lippa, Telsey & Co. Casting Director Rachel Hoffman, renowned actress Susan Blackwell, and other notable performers and members of the New York talent community. Another group of students will make the NYC trip in January 2018.
"Our students leave Drake with not only with college credits, but with credits from professional companies—including some small professional companies that pay their artists," Kash said. "And for the eight that had the opportunity to perform with Kristin Chenoweth on Saturday, they have an experience that they will remember for the rest of their lives."