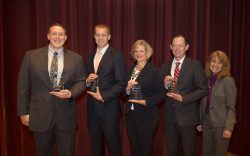 Drake University's College of Pharmacy and Health Sciences honored four outstanding alumni during the college's annual Pharmacy and Health Sciences Day, held Thursday, Feb. 23 in Sheslow Auditorium.
Drake alumni Marc Baumert and Grant Knowles received the college's Young Alumni Achievement Award, issued each year to alumni who graduated within the past 10 years. Nancy Bell and R. Mathew Hosford received the Alumni Achievement Award. Three of the alumni—Baumert, Bell, and Hosford—work in the Des Moines metro area; all have demonstrated remarkable loyalty to their alma mater and extraordinary professional success.
"Our 2017 honorees embody the college's values of professionalism, collaboration, collegiality, innovation, and entrepreneurship," said Renae Chesnut, dean of Drake's College of Pharmacy and Health Sciences. "Their professional accomplishments, commitment to our students, and dedication to their communities is nothing short of inspiring."
Marc Baumert, PH'12 — Young Alumni Achievement Award
Marc Baumert, a 2012 graduate of the Health Sciences program, is a physician's assistant at Broadlawns Medical Center. As one of the first graduates of the Health Sciences program, Baumert credits program—specifically the Issues in Health Sciences I course—for introducing him to the career pathway of physician's assistant. Following his graduation from Des Moines University's master's program in physician assistant studies, he began at Broadlawns, where he completed his senior experience, currently treating patients at the Primary Care Clinic as well as a few hours a month at the Urgent Care Clinic. Baumert gives back to Drake CPHS and the health sciences program by serving on the Health Sciences Advisory Board and meeting with health sciences students interested in pursuing a career as a physician assistant.
Grant Knowles, PH'07—Young Alumni Achievement Award
Grant Knowles earned his Doctor of Pharmacy from Drake in 2007. After graduation, he completed a residency in Managed Care Pharmacy. He has served in various roles in pharmacy, starting his career at American Health Care where he directed operations, client presentations, and maintained continuing education programs. He moved to Moda Health to lead formulary management initiatives for Medicaid, Medicare, and commercial clients. Knowles currently serves as vice president of business development at Ardon Health, a specialty pharmacy organization. Prior to assuming this position, Knowles played an integral role in the development of Ardon Health's specialty pharmacy while serving as the vice president of operations.
Knowles has an extensive background in specialty pharmacy management from a payer, providers, and contracting perspective. He is the current professional practice committee chair for the National Association of Specialty Pharmacy. He has also served as a camp counselor at CAMP JAM, where he worked with children and teens with arthritis and childhood rheumatic diseases.
Nancy Bell, PH'90—Alumni Achievement Award
Nancy Bell, a 1990 graduate of Drake's Bachelor of Science in Pharmacy program, is currently a medical outcomes specialist and clinical education manager with Pfizer. She has previously held pharmacist and department manager positions with Kmart Pharmacy and as a clinical pharmacist with the John Deere Pharmacy Group and the Iowa Pharmacy Association. In addition to her bachelor's degree in pharmacy from Drake, Bell also completed a non-traditional PharmD degree at the University of Kansas.
Bell brings a great deal of passion and dedication for the profession of pharmacy and patient care. Since graduating from Drake, she has remained dedicated to the Drake CPHS as a current member of the college's National Advisory Board; a long-standing Academic Affairs Committee member; and a preceptor, mentor, and role model for pharmacy students. A dedicated community servant and accomplished professional, she has received the Director's Award of Merit from the Iowa Department of Public Health, the Pharmaceutical Manufacturers of America "We Work for Health" Award for being an ambassador above and beyond her role with Pfizer, and recently completed a medical missionary trip to Liberia, Africa.
R. Mathew Hosford, PH'96—Alumni Achievement Award
A native of Wales, United Kingdom, R. Mathew Hosford received his Doctor of Pharmacy degree from Drake in 1996. He is currently vice president and chief pharmacy officer for Wellmark Blue Cross and Blue Shield and leads the clinical and operational facets of the Wellmark pharmacy program. One of his recent advancements is the implementation of the Wellmark high performance pharmacy program that will reimburse community-based pharmacists for their patient care activities in addition to the medication product.
Hosford has been appointed by the governor of Iowa to a four-year term as a commissioner on the Iowa Civil Rights Commission. In addition, he is a diplomat for the Drake University Academy of Managed Care Pharmacy Student Chapter, a member of the Iowa Pharmacist Association New Practice Model Task Force, and a member of the BlueCross BlueShield Association National Council of Physician and Pharmacist Executives.
Hosford is a veteran of the U.S. Army Reserve, where he most recently served as a combat support officer and a company commander. He was twice awarded the Bronze Star and a Combat Action Badge for his service during Operation Iraqi Freedom.