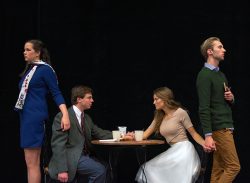 The Drake University Theatre Department is beginning the spring semester with a repertory showcase featuring two student-directed shows with dark themes. The shows will be performed on alternating days Thursday, Feb. 23, through Sunday, Feb. 26, in the William S.E. Coleman Studio Theatre in the Harmon Fine Arts Center.
Performances of 'night, Mother by Marsha Norman, directed by senior Justin Tomer, will play at 7:30 p.m. Thursday, Feb. 23, and Saturday, Feb. 25, and at 2 p.m. Sunday, Feb. 26. Becky Shaw by Gina Gionfriddo, directed by Drake senior Zachary Decker, will play at 7:30 p.m. Friday, Feb. 24 and Sunday, Feb. 26, and at 2 p.m. Saturday, Feb. 25.
'night, Mother is a show about the relationship between a mother (performed at Drake by senior musical theatre major Ruby Carlson) and her adult daughter, Jesse (sophomore musical theatre major Amy Swanson). It focuses on a single evening with the two characters. Through their conversation, largely surrounding the mental health of Jesse, they exorcise past demons and attempt to work out their differences, all the while spiraling towards an inevitable conclusion.
The show deals with the topic of suicide as well as other mental health issues and the intense emotions that surround these issues.
"I usually try to find things that I can relate to in characters, but mama's experiences are beyond anything I can relate to," Carlson said. "So I use techniques to work around that. It's about dropping in and out of emotions quickly, which means I can make myself scream and cry, but it's pretty easy to flip back out after."
'night, Mother was originally produced on Broadway by Dann Byck, Wendell Cherry, The Shubert Organization and Frederick Zollo. Original production directed by Tom Moore. Originally produced by The American Repertory Theatre, Cambridge, MA. 'Night, Mother is presented by special arrangement with Dramatists Play Service, Inc., New York.
The second show in the showcase, Becky Shaw, is a contemporary dark comedy that revolves around a blind date gone horribly wrong and the chaos that ensues afterwards. The show addresses many contemporary topics like race, class, and gender roles but with a comic and slightly offensive tone. Gionfriddo tells the story of what happens when a family on the edge of a breaking point meets a very interesting individual: Becky Shaw.
The play's darkly comic tone is what drew Decker to the script.
"It's a dark comedy to the extreme," Decker said. "A lot of people say things that they could never say in real life. Race issues, class issues, things that would be taboo—they just go on and say it. It's funny but it's also a little shocking. There's a reference to Hillary [Clinton]'s 2008 presidential run, and it's still pretty relevant. I hope people gasp and feel uncomfortable."
Courtney Gordon, who plays the title role of Becky Shaw, believes it is the combination of drama and humor that give this show its heart.
"One of the most special things about this show is that it's a chance to laugh about things you wouldn't normally," Gordon said. "Sometimes humor can be a good way to start those conversations that are hard to have."
Becky Shaw had its world premiere in the 2008 Humana Festival of New American Plays at Actors Theatre of Louisville. New York premiere produced in 2009 by Second Stage Theatre, New York, Carole Rothman, Artistic Director. Becky Shaw is presented by special arrangement with Dramatists Play Service, Inc., New York.
Admission to each production is $7 for adults, $5 for students and senior citizens, and $2 for those with a Drake ID. Tickets are available at the Fine Arts Box Office or online. For more information, visit http://drake.edu/fineartsboxoffice/ or call 515-271-3841.