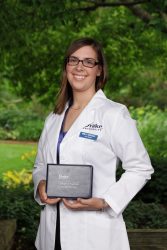 Emily Nadolny, a Drake University occupational therapy doctoral candidate from Willmar, Minn., recently was chosen to attend the highly selective Second Annual Summer Institute for Future Scientists in Occupational Therapy.
Nadolny was one of only 30 participants nationwide to be selected for the June 1 institute, cosponsored by the American Occupational Therapy Association and the American Occupational Therapy Foundation.
"It is a tremendous honor for Emily to be selected for the Second Annual Summer Institute for Future Scientists in Occupational Therapy," said Professor Ann Burkhardt, department chair and director of Drake's Occupational Therapy Doctorate Program. "She is a wonderful student whose passion for research and dedication to serving others exemplify the caliber and character of students that we are seeking here at Drake."
Nadolny enrolled in Drake's first occupational therapy doctorate (OTD) cohort in May 2016. She has a passion for research that will advance the field of occupational therapy, and says she looks forward to representing Drake at the conference in Boston, Mass. She is also invited to attend the Occupational Therapy Summit of Scholars from June 2-3.
"I appreciate the opportunity to represent Drake at this major research symposium and to tell everyone that Drake has great people on their faculty—and in their classrooms—who are involved in powerful research," Nadolny said. "Iowa is tremendously underserved by occupational therapists; it's important to share that Drake is doing good work here in the state and to be able to network with others who are involved in OT research."
Nadolny's first experience with occupational therapy came in high school, when she underwent hand therapy following a skiing accident. She developed an intense interest in the field during an internship at Rice Memorial Hospital in her hometown of Willmar, Minn., where she was able to work closely with therapists and patients across diverse fields.
"I saw pediatric therapy, acute care, palliative care—a lot of different people with drastically different stories," she said. "It instilled a passion in me to help others as much as I could and pursue OT as a career."
Nadolny earned a bachelor's degree in biology from St. Olaf College in Northfield, Minn., in December 2014. She explored occupational therapy programs in Wisconsin, North Dakota, South Dakota, Minnesota, and Iowa before selecting Drake. She was influenced by the quality of the faculty, as well as opportunity to earn a doctorate degree.
"I instantly developed a strong connection with the faculty here at Drake," Nadolny said. "They are skilled mentors at the top of their professional fields—it is incredible to work with them."