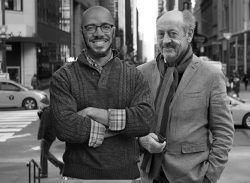 EDIT: This article was updated 3/17/17 to include a link to the event live-stream.
Two of the nation's most high-profile poets will bring very different approaches to the genre as co-headliners of the 38th installment of the Martin Bucksbaum Distinguished Lecture Series at Drake University. Billy Collins, poet laureate of the United States from 2001 to 2003, and Clint Smith, winner of the 2014 National Poetry Slam, will deliver back-to-back readings followed by a moderated audience question-and-answer session.
The lecture is scheduled for 7 p.m. Monday, March 27, in The Knapp Center, 2525 Forest Ave. All seating is general admission; no tickets or reservations are required. The event will also be streamed live online at http://live.drake.edu.
Collins has inspired generations of readers with an inviting but sharply ironic style, while Smith has risen to national prominence more recently with a socially conscious mix of spoken word and traditional poetry forms. The pair adds literary flair to Drake's premier lecture series, which in recent years has featured former U.S. President Jimmy Carter and First Lady Rosalynn Carter, Bill Nye the Science Guy, and "Project Runway" host Tim Gunn.
"Drake University is dedicated to the power of words and the power of knowledge," said Neil Hamilton, professor of law at Drake Law School and chair of the Bucksbaum lectureship's selection committee. "It is an absolute honor to have the opportunity, through the Bucksbaum lecture series, to invite our community to hear from two of the nation's leading poets; each of whom brings a unique approach and perspective to the craft."
Billy Collins has published more than a dozen collections of poetry since 1977. He has broken sales records, delivered standing room only readings to diverse crowds, and been a frequent guest on National Public Radio. His work has appeared in periodicals including The New Yorker, The Paris Review, and The American Scholar.
The late American Pulitzer Prize-winning author John Updike described Collins' poems as "limpid, gently and consistently startling, more serious than they seem. They describe all the worlds that are and were and some others besides."
Clint Smith is a 2014 National Poetry Slam champion, an Individual World Poetry Slam finalist, a Cave Canem fellow, a Callaloo Creative Writing Workshop fellow, and has served as cultural ambassador for the U.S. Department of State. His writing often touches on themes of race and inequality—topics he currently studies as a doctoral candidate at Harvard University. His debut poetry collection, Counting Descent, "explores the cognitive dissonance that results from belonging to a community that unapologetically celebrates black humanity while living in a world that often renders blackness a caricature of fear."
Smith's two TED Talks, The Danger of Silence and How to Raise a Black Son in America, collectively have been viewed more than 5 million times. He has been published in outlets including The New Yorker, The Guardian, Boston Review, American Poetry Review, and Harvard Educational Review. He has been profiled in The Washington Post, NPR's Here & Now, Vox, The Huffington Post, The Root, NBC News, PBS Newshour, and The Boston Globe.
"The juxtaposition of Clint Smith's work with Billy Collins' will provide a fascinating sense of the broad range of American poetry," said Yasmina Madden, visiting assistant professor of English and Coordinator of the Susan Glaspell Drake Writers & Critics Series. "Collins has entertained readers for decades with a style that is approachable, charming, but sharply ironic—he often works in a self-deprecating tone that makes his work amusing, complex, and compelling. Smith has emerged more recently as a highly-respected and engaging voice who uses spoken word, as well as more traditional forms of poetry, to address timely topics of race and culture."
About the Martin Bucksbaum Distinguished Lecture Series
The Martin Bucksbaum Distinguished Lecture Series is made possible by a gift from the late Melva and Martin Bucksbaum. The Martin Bucksbaum Distinguished Lectureship Committee includes: Neil Hamilton (chair), Julian Archer, James Autry, Pamela Bass-Bookey, Michael Gartner, Janis Ruan, Mary Bucksbaum Scanlon, and Eleanor Zeff.