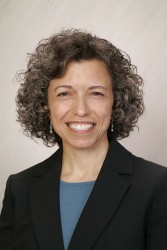 Drake University Provost Sue Mattison will discuss disparities in treatment and survival among cancer patients during a free public lecture. "The Grand Scheme of an Unwholesome Condition: The Epidemiology of Cancer" is scheduled for noon Friday, Feb. 17, in room 134 of Harvey Ingham Hall, 2804 Forest Ave.
Mattison, who holds a Ph.D. in epidemiology from the University of Iowa, will place particular focus on cancer disparities associated with race and socioeconomic status. The lecture is part of the Drake University Science Collaborative Institute (DUSCI)'s Science Colloquiem Lecture Series, which features the expertise of Drake faculty and guest speakers.
Mattison has published numerous peer-reviewed or refereed articles on the influence of race, ethnicity, age, sex, and economic status on cancer treatment and survival rates.
"Advances in understanding cancer are like putting together a jigsaw puzzle," Mattison said. "My part of the puzzle has been examining the impact of race and socioeconomic status on risk factors, treatment, survival, and molecular markers of breast cancer, while keeping an eye on larger patterns of disease in general and cancer in particular."
Mattison has served as Drake's provost since July 2016. Previously she served in administrative roles at the University of Wisconsin-Green Bay and University of Northern Iowa, and as a faculty member at the University of Northern Iowa and the University of Iowa.