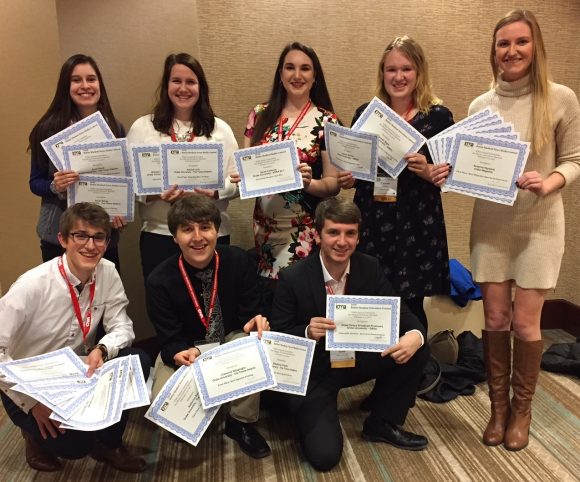 Record number of ICMA awards for Drake student media
Three Drake student media organizations won a total of 31 awards from the Iowa College Media Association Thursday night.
Also at the ICMA conference, Times-Delphic editor-in-chief Jessica Lynk spoke on a panel titled "Engaging Your Community: How Campus News Organizations Stay Relevant."
Congratulations to all the contest winners!
Drake Magazine
First place
Infographic, Susanna Hayward, Cole Norum, Julian State
Magazine cover, Susanna Hayward
Feature story, Emma Muth
Third place
Feature photo, Sam Fathallah,
Infographic, Gaby Gaass, Emma Huston
Feature story, Molly Longman
Honorable mention
Print design, Susanna Hayward
Feature photo, Praneeth Rajsingh
The Times-Delphic
First place
Headline writing, Jessica Lynk
Blog, Tim Webber, Sydney Price, Jessica Lynk, Adam Rogan, John Wingert
Use of social media, Jake Bullington, Ellen Converse, Jessica Lynk, Tim Webber
Sports story, Katherine Bauer
Opinion writing, Chamindi Wijesinghe
Review, Parker Klyn
Second place
Online design, Jake Bullington
Infographic, Jessica Lynk
Sports story, Madeline Cheek
Third place
Page One, Michael Lopez and Jessica Lynk
Opinion writing, Jacob McKay
Print design, Michael Lopez, Jessica Lynk
Online edition, Jake Bullington, Jessica Lynk and staff
Review, Jessie Spangler
News photo, Lorien MacEnulty
Honorable Mention
Headline writing, Anna Zavell
Feature story, Clare Vanechaute
Infographic, Michael Lopez
News story, Anna Jensen
DBS
Third place
Corporate video, Lauren Baker
Commercial or PSA, Hannah Bigot
Honorable mention
News programming, Drake Relays Broadcast Producers
PSA, Sarah Beth Coleman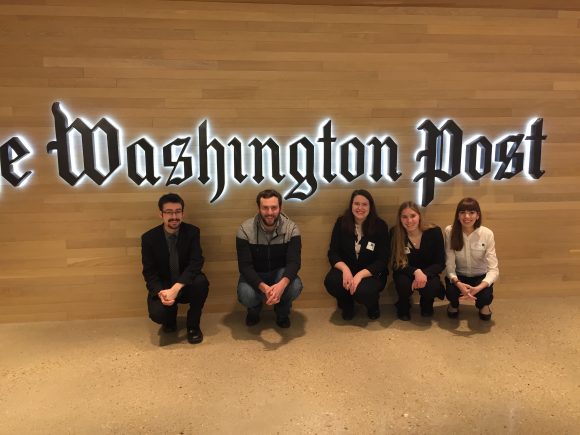 D.C.-area SJMC alumni meet with J-term students
Drake alumni, including many from SJMC, warmly welcomed a January-term travel seminar to Washington, D.C. Twenty-five students and professors Rachel Caufield and Jill Van Wyke visited the city for two weeks, culminating in the presidential inauguration on Jan. 20.
Alumni hosted the students at their workplaces, joined them for a networking reception, and met for coffee. Special thanks to SJMC alumni:
Matt Clark, Pyxera Global
Anamarie Rebori Simmons, Edelman
Kelsey Jones Art, DCI Group
Matt Nelson, The Washington Post
Evan Jurkovich, House Ag Committee staff
Matt Vasilogambros, The Atlantic
Accreditation team to visit SJMC next week
The SJMC's accreditation "site visit" team of media professionals and professors will be on campus Feb. 12-15. The team's review of our program will include meetings with students:
Monday, Feb. 13, at 3 p.m.: Open meeting with all SJMC majors (Mer. 124B)
Monday, Feb. 13, at 4 p.m.: Major-specific meetings —

Advertising (Mer. 103)
Digital Media Production (including Radio-TV Producing) (Mer. 002)
Magazine Media (Mer. 125)
News (including News-Internet and Broadcast News) (Mer. 124B)
Public Relations and Strategic Political Communication (Mer. 203)
Please plan to participate in one or both of these important meetings.
Scholarship applications available
Application forms for 2017-2018 scholarships are available on the table outside of Mer. 119. We are especially encouraging journalism students to submit examples of their broadcast or published stories for the Professor Richard Tapscott Reporting Award.
This cash award, in honor of the beloved late SJMC professor, recognizes work that reflects the values Rick tried to instill in his students: curiosity, accuracy, integrity, humanity, public accountability and aggressive reporting. Deadline for submission of work in any medium for the Tapscott Award is Feb. 17. See the application form for details.
What would you like to see in Meredith Hall?
The SJMC has hired an architect to lead a "feasibility study" to help us figure out how our building can be remodeled or repurposed to better support our learning and living.
We want to hear your thoughts! Please participate in one of two focus groups that the architects will be holding with students:
Friday, Feb. 10 at 9-10:30 a.m. in Mer. 104: Focus group with any students
Friday, Feb. 10 at 1-2:30 in Mer. 104: Focus group for SJMC students
If you can't make either focus group, there will be an opportunity to submit comments electronically OR you can contact Dean Kathleen Richardson with your thoughts.
Free digital media workshops planned
Professor Chris Snider will be teaching three digital media workshops this spring that are free to Drake students. They include:
2017 Social Media Strategy workshop – Saturday, Feb. 11 — 9 a.m. – 3:30 p.m.
Smartphone Video + Premiere Workshop – Saturday, March 4 — 9 a.m. – 3:30 p.m.
360-Degree Photography and Video Workshop – Wednesday, April 5 — 6-9 p.m.
Get more details on the digital media workshops.
DPR seeks writers
Drake Political Review is looking for writers this semester. Email Editor Sarah.LeBlanc@drake.edu if you're interested.