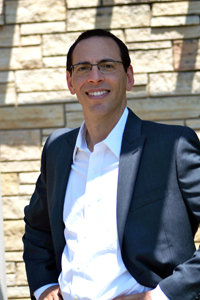 Jonathan Rosenbloom, professor of law at Drake University Law School, was named a Distinguished Environmental Scholar by Vermont Law School as part of its 2017 Distinguished Summer Scholars program.
The program invites leaders in the fields of energy, agriculture, and environmental law to serve as scholars in residency during the Vermont Law School summer session.
Rosenbloom will collaborate on a research project with Keith Hirokawa, associate professor at Albany Law School and duel appointed Distinguished Environmental Scholar.
The professors will join fellow Distinguished Summer Scholars Sara Bronin, Thomas F. Gallivan Jr. Chair in Real Property Law and faculty director of the Center for Energy & Environmental Law at the University of Connecticut School of Law; Michelle Nowlin, clinical professor of law and supervising attorney at the Duke Environmental Law and Policy Clinic; and Tianbao Qin, professor of law, director of the Research Institute of Environmental Law, and associate dean for research and international affiliations at the Wuhan University School of Law.
During the program, the scholars will also deliver public lectures, participate in events on campus, and meet with law students.
"To be associated with the renowned environmental program at Vermont Law School, Professor Hirokawa, and the other preeminent scholars is an honor" said Rosenbloom. "The Distinguished Environmental Scholars program is an important platform to explore critical ideas in what is likely to be a trying time for nature. I'm excited to get to work."
Rosenbloom joined the Drake Law faculty in 2010. He specializes in the areas of sustainability, environmental law, land use, and state and local government.
His research focuses on collective action challenges, particularly environmental challenges, facing local governments. Rosenbloom is the co-author of textbooks Resilience & Sustainability: From Theory to Practice and Land Use and Sustainable Development Law: Cases and Materials and has been published in the Hastings Law Journal, Harvard Environmental Law Review, and more.
In partnership with the University of Colorado Denver, he is also co-director of the Sustainable Development Code, which is designed to provide local governments with the best sustainability practices in land use.
Before coming to Drake Law School, Rosenbloom worked for the federal government, a non-profit urban research institute, and Reed Smith LLP and clerked for the Honorable Rosemary Barkett on the U.S. Court of Appeals for the 11th Circuit. In addition, he founded Sustainable America, a non-profit dedicated to working with state and local governments on becoming more sustainable.
Among his many community involvements, Rosenbloom has held leadership positions on the Des Moines Plan and Zoning Commission, The Greater Des Moines Partnership, and Iowa Environmental Council. He was named Drake Law School's Leland Forrest Outstanding Professor of the Year in 2013 and the University of Oregon School of Law's Environmental & Natural Resource Distinguished Visitor in 2016.
Rosenbloom received his bachelor's degree in architecture from the Rhode Island School of Design, J.D. from New York Law School, and LL.M. from Harvard Law School.
For more information, visit Rosenbloom's faculty profile.