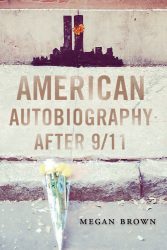 A new book by Associate Professor of English Megan Brown explores the myriad developments in American autobiography since the Sept. 11, 2001 terrorist attacks. Brown, a native New Yorker, draws on years of reading, teaching, and academic research for American Autobiography after 9/11 (Jan. 2017, University of Wisconsin Press). She contends that best sellers including Cheryl Strayed's Wild, Elizabeth Gilbert's Eat, Pray, Love, and Tucker Max's I Hope They Serve Beer in Hell teach readers how to navigate a confusing, changing world post-9/11.
"The years after 9/11 became a time for people to think about what it means to be an American, both in terms of national and individual identity," Brown said. "It was a fraught moment, followed by a series of other stressful events—the run-up to war, the economic crisis that began in 2008, the Sandy Hook shooting, and so many others—that have us asking what it means to be 'normal' in America."
The national tenor following 9/11 was characterized by unity; but Brown said the mood quickly shifted toward stories that championed rugged individualism. Wild, for example, centers on the author's solo hike through the wilderness after losing her mother, battling drug abuse, and undergoing a divorce—detailing the most routine elements of the trip, from packing the right pair of socks to parceling water from a canteen, in one person's step-by-step journey toward self-discovery.
In such memoirs, "there's this heightened attention to individuality as how we're supposed to cope with trauma," Brown said.
Brown was in graduate school at Penn State University during the 9/11 attacks; she had family and friends who lived in New York City at the time. "Even now, when I think about the attacks or see photos, I find it tremendously upsetting," she said.
She began reflecting on the impact of the attacks on American storytelling during her time at Drake, when Joe Lenz, dean of the College of Arts and Sciences, encouraged her to teach a course on memoir and autobiography. One of her first course sessions on the topic provides anecdotes for a book chapter on teaching life stories. Some of her students are mentioned by name, with their permission.
"I first taught the course in spring 2006, and it was right after A Million Little Pieces blew up," says Brown, referring to a controversial book that author James Frey originally sold as a memoir until large portions of were revealed to be falsified. "We spent a lot of time talking about authenticity and ethics in autobiography. These are fascinating issues, since memoir itself is largely contingent on memory and therefore not an objective record. I learn a lot from my students about these topics."
During her research, Brown's understanding of the form and function of memoir has expanded; an understanding that is reflected in her book. American Autobiography after 9/11 explores the popularity of autobiographical formats like graphic novels, film, and television, and how those are shaping the way personal stories are told and consumed. Brown links reality television shows like "Survivor" to memoir, to the extent that such programs sketch the backgrounds and personalities of their participants and convey lessons about how to succeed over adversity.
"Memoirs come in many forms, accomplish many things, and can be critiqued from many angles," Brown said. "No book operates in just one way. Stories are a way of promoting ourselves, finding ourselves, and even creating ourselves."