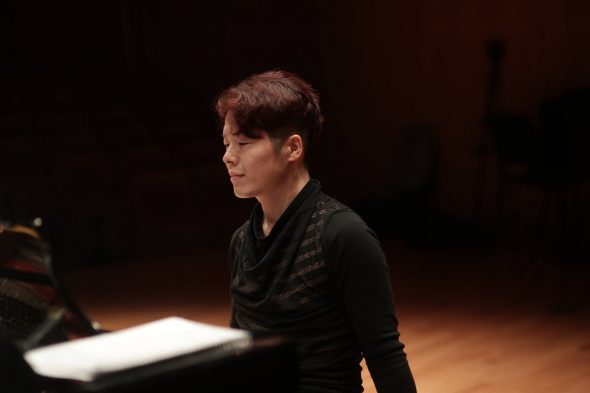 UPDATE: The Jan. 23 performance and Jan. 22 masterclass by Quentin Kim have been cancelled due to an illness. We apologize for any inconvenience. 
Quentin Kim, professor of piano at Pusan National University, will present the next concert of Drake University's Keys to Excellence Piano Series. The free concert is at 7:30 p.m. Monday, Jan. 23 at 7:30 p.m. in Sheslow Auditorium, featuring the following selections:
Quentin Kim: Lilies, Ballad-Fantasy
Mozart: Sonata in C, K. 309
Chopin: Andante Spianato and Grand Polonaise Brillante, op. 22
Mozart: Symphony No. 40 in g, K. 550 for Piano Four Hands with Nicholas Roth
Professor Kim will also present a public masterclass on Sunday, January 22 at 2:00 p.m. in Sheslow Auditorium. All are welcome to attend.
Pianist Quentin Kim has been hailed by New York Concert Review as an "inspiring…thoughtful musician" through whom music sounds "completely new, modern in the best sense of the word, as if freshly created."
The media reception of Mr. Kim's solo albums (Blue Griffin Recording) has been enthusiastic: American Record Guide praised his "warmth that is always engaging" and "extraordinary range of emotion and color" (on the debut album "Romantic Tales"), and Audiophile Audition called him an "interpreter of taste and imaginative fancy, one whose poetry remains just as capable of colossal but humane ferocity" (on the recent release "The Sonata Album").
Having given recitals and chamber concerts at such venues as the Carnegie Hall and Lincoln Center, performed with the Seoul Arts Center Festival Orchestra, Elgin Symphony, Buchon Philharmonic, Busan Symphony Orchestras and New York Concert Artists Orchestra, Quentin has toured Central-South America with members of the International Sejong Soloists and appeared at the Busan International Music Festival, Busan International Choir Festival's Eve Concert and Dureraum Chamber Music Festival at the Busan Cinema Center.
Equally known as a composer of aestheticism and emotional sincerity, Quentin Kim's works have been heard at the Kennedy Center and Berlin Philharmoniker Kammersaal, among other major concert halls of the world.  Deemed "refreshingly direct" and "worthy of repeated hearings" (American Record Guide), his music has won the favor of the public, musicians and critics alike.
Quentin Kim was the Composer-in-Residence of the Korea Concert Society in Washington, D.C. in both 2012 and 2013.  Recently pianist Nathan Carterette has recorded his composition album "Quentin Kim: Solo Piano Works, vol. 1," released by the Unique Piece Records.
Recipient of a Doctorate from The Juilliard School, along with an Artist Diploma from Yale University, Dr. Kim is currently a Professor of Piano at Pusan National University in Korea.  He has also served as a member of jury for a number of piano competitions, such as the Isang Yun International Music Competition, Steinway Youth Competition, JoongAng Music Concours, DongA Music Concours, and Korea-China International Exchange Music Competition.
The Keys to Excellence Piano Series was created to raise awareness of Drake's fundraising efforts for the purpose of 70 brand new Yamaha pianos for the music department. It brings internationally acclaimed artists to perform on the Yamaha CFX concert grand at Drake University.
The series is supported by Yamaha, West Music, Civic Music Association, and Drake University. For more information, contact Nicholas Roth at 515-321-5947 or nicholas.roth@drake.edu.
KEYS TO EXCELLENCE PIANO SERIES 2016-17:
OCTOBER 24: Lori Sims – Western Michigan University
NOVEMBER 14: Jeff Brown – Western Illinois University
NOVEMBER 28: Nicholas Roth – Drake University
JANUARY 23: Quentin Kim – Pusan National University (South Korea)
MARCH 6: Alan Chow – Northwestern University
MARCH 20: Alexander Djordjevic – Music Institute of Chicago
All performances begin at 7:30 p.m. in Sheslow Auditorium and are free and open to the public.