Rapid progress is being made on the Science Connector and neighboring Collier-Scripps Hall, two new academic buildings slated to open for Drake students by fall 2017 as part of the STEM@DRAKE building initiative. Renovations are also progressing at the site of the former University Bookstore, which will house Drake's Occupational Therapy Doctorate (OTD) program. "These new facilities will feature flexible design, cutting-edge technology, and state-of-the-art laboratories that will provide collaborative learning and research environments, benefiting all of our College's students and faculty," said Renae Chesnut, dean of the College of Pharmacy & Health Sciences. "Several small group spaces will also be available to students and faculty to supplement classroom learning."
Beginning to take shape. The steel and concrete skeleton of the Science Connector building, which will link Fitch and Olin halls, bears visual hints of the cutting-edge learning environments that will engage generations of students. "We're envisioning the kind of education that views faculty and students as co-collaborators on projects," said Keith Summerville, deputy Provost at Drake University. "The kind of education that breaks down barriers to the process of doing and communicating science, publishing that science, and advancing our students toward their aspirations."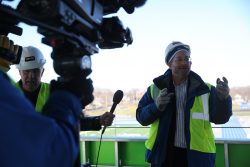 On the first two floors, walls are framed around research and learning laboratories where students will study challenges of the mind like Alzheimer's and autism and pursue new treatment options for health issues such as cancer and heart disease.
On the third floor, an indentation in the floor sketches the path of a 120-foot running track that will support research in kinesiology, health sciences, and the future masters of athletic training (AT) program. Pressure sensors in the the track will allow students to analyze how movement affects human joints.
On the roof, the foundation has been laid for a greenhouse and a biodiversity center. From this high vantage point, one can see the neighboring Collier-Scripps Hall, which will be home to Drake's School of Education, Department of Mathematics and Computer Science, and Robert D. and Billie Ray Center.
A few blocks down Forest Ave, construction is nearing completion on the future home of Drake's Occupational Therapy Doctorate (OTD) program: faculty, staff, and students plan to move into their new space as early as February 2017.
The first class of 26 OTD students, who recently completed their second semester of studies, will do most of the remainder of their coursework here, as will future classes. The space will also serve a vital community need. In the Lifestyle Redesign Center, people with mobility challenges will be able to schedule an appointment with OTD faculty and students to test out a variety of assistive equipment and devices through a simulated bedroom, bathroom, kitchen, living room, automobile, and streetscape.
In short: the future is in full view on Drake's campus. And it's a compelling sight. Plenty of prospective Bulldogs are already responding to the promise of new programs and new facilities.
"We've had a long record of excellence in preparing students for science, technology, and math degrees, as well as education," said President Martin. "[STEM@DRAKE] enhances our ability to attract and retain students in all of those disciplines. We're already seeing a real positive effect in terms of enrollment and yield, just because the buildings are being constructed."
Some visible indicators of student interest:
The number of students applying to Drake's OTD and pre-OT and pre-AT programs has already surpassed last year.
More than 170 students have declared a major in the university's new undergraduate program in data analytics.
Thirty-one students have declared a major in kinesiology.
The percentage of prospective students who express interest in STEM fields has increased over the past few years, and the percentage of STEM applicants who enroll at Drake has also increased.
Philanthropic support is playing an important role in making STEM@DRAKE a reality. Alumni and friends of the University have contributed more than $23 million toward Drake's $30 million philanthropic goal in support of the initiative.
The fundraising campaign has benefited from a number of transformative gifts, including two recent commitments from the Stine Family Foundation and Mr. William C. Knapp. Together, Stine and Knapp made their commitments in honor of former Iowa Gov. Robert D. Ray and Mrs. Billie Ray. These leadership gifts significantly advance the fundraising effort and the gifts will be celebrated through the creation of the Robert D. and Billie Ray Promenade, a beautiful new plaza adjacent to the STEM@DRAKE complex that will replace 27th Street.