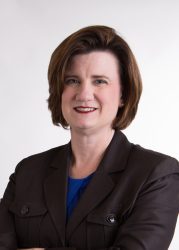 Natalie Ross Adkins, associate professor of marketing at Drake University, is co-author of a recent paper that explores how stakeholders in the marketplace can be the source and target of stigma. "The Stigma Turbine: A Theoretical Framework for Conceptualizing and Contextualizing Marketplace Stigma" was published in the fall 2016 issue of the American Marketing Association's Journal of Public Policy and Marketing (JPPM).
Adkins and the co-authors use an analogy of a wind turbine to illustrate the societal, cultural, and institutional currents that can fuel stigma and the individual, social, and marketplace targets of stigma.
In a second paper, published in the December issue of the Keller Research Report, Adkins and her fellow researchers take the theoretical model developed in the JPPM article and apply it to the real estate market.
"Just as atmospheric winds propel turbines, the real estate stigma turbine is propelled by the metaphorical social, cultural, historical, institutional, and commercial forces that can both fuel and attenuate the stigmatization process," according to the article.
Adkins has served on the Drake faculty since 2009. She teaches undergraduate courses on topics include marketing principles, consumer behavior, and direct and interactive marketing, also teaches courses for the Drake M.B.A. program on creating customer value and services marketing. She also serves as advisor for the Drake Chapter of Delta Sigma Pi business fraternity.
Her research exploring stigma in the marketplace for low literate consumers, disadvantaged consumer groups, and multicultural consumers has been published in leading marketing journals, including the Journal of Consumer Research, Journal of Public Policy and Marketing, and the Journal of Business Research. Additionally, Adkins currently serves on the editorial review board of JPPM.
Adkins received her PhD in marketing from the Pamplin College of Business at Virginia Tech.