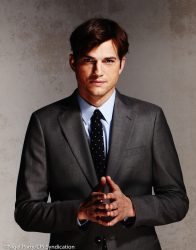 The Robert D. and Billie Ray Center at Drake University has named Iowa native Ashton Kutcher as the 2017 Robert D. Ray Pillar of Character Award recipient.
Mr. Kutcher will accept the award on April 8, 2017 at The Ray Center's All-Star Evening in West Des Moines. An All-Star Evening is presented by Hy-Vee and benefits The Ray Center's programs, including CHARACTER COUNTS!
This award is The Ray Center's highest honor and is presented each spring to an individual who demonstrates good character as a role model and reflects former Gov. Robert D. Ray's lifelong commitment to civility and character development. Past recipients include Norman Borlaug, Hayden Fry, Dan Gable, Fred Hoiberg, and Shawn Johnson.
"Ashton is a leader in the next generation of Americans who are passionately working to bring positive change to the world," said former Governor Robert D. Ray. "Ashton continues to be guided by his Iowa values and puts his character into action with efforts such as funding 132 Iowa school projects or helping Iowans after natural disasters. We are honored to have the opportunity to celebrate his achievements as a philanthropist, activist and thought leader."
Kutcher, along with fellow Iowan Dallas Clark, co-founded The Native Fund, a non-profit organization that is committed to raising funds and organizing resources that can be used to assist the people of Iowa in their times of need (www.thenativefund.org). Kutcher is also the co-founder of Thorn: Digital Defenders of Children (www.wearethorn.org). Thorn drives technology innovation to fight the sexual exploitation of children.
Kutcher has been named one of TIME magazine's "100 Most Influential People in the World" and Vanity Fair has honored him on their New Establishment List, which identifies the top 50 of an innovative new breed of buccaneering visionaries, engineering prodigies and entrepreneurs. In 2010 and again in 2014, Kutcher was named one of Forbes magazine's "World's Most Powerful Celebrities," as well as one of Fast Company magazine's "Most Creative People." Additionally, he co-founded A Plus, a digital media company devoted to spreading the message of positive journalism, a kind of storytelling that focuses on our shared humanity. In 2016, A Plus was purchased by Chicken Soup for The Soul.
More information about Mr. Kutcher and the Ray Award is available at www.AllStarEvening.org.
The Robert D. and Billie Ray Center provides character and leadership development strategies to improve civility and develop ethical leaders throughout the world. Through public awareness and programming grounded in research, The Ray Center features two programs, CHARACTER COUNTS! and Excellence with Integrity. Our initiatives benefit people of all ages and are easily adaptable for families, schools, workplaces, athletic teams, and organizations. Additional awards are annually presented by The Ray Center at the Iowa Character Awards each summer.