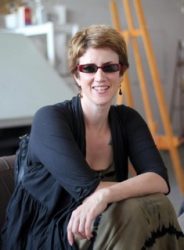 Joan Faber McAlister, associate professor of rhetoric, media, and social change, has been selected to receive the 2016 Francine Merritt Award for Outstanding Contributions to the Lives of Women in Communication.
The prestigious award from the National Communication Association (NCA) Women's Caucus honors the memory of Francine Merritt, who taught at Louisiana State University between 1947 and 1984. Recipients exhibit the kind of selfless work and service that characterized Merritt's life and inspired her many admirers among NCA women. The award was presented to McAlister on Friday, Nov. 11, during the NCA's annual convention in Philadelphia.
"The Francine Merritt Award is particularly meaningful to me because my own mentor, Barbara Biesecker won it a few years ago," McAlister said. "She and the other previous winners are feminist icons in my field, and it is profoundly humbling to find myself part of this history now."
This year Biesecker wrote the primary letter of nomination for McAlister.
"I know (of) no other individual of her generation or the next who—through her mentoring, teaching, service, and scholarship—has made such a sizeable difference in the lives of so many," Biesecker wrote, adding that McAlister has helped transform Drake's Department for the Study of Culture and Society into a "first-class training ground for future graduate students and faculty." [Read the full nomination letter (PDF)]
McAlister is editor of Women's Studies in Communication, an international peer-reviewed quarterly academic journal created by the Organization for Research on Women and Communication (ORWAC). Numerous undergraduate Drake students have worked with her as editorial assistants on the publication.
A rhetorical scholar with a research agenda focusing on visual culture, public memory, place and the sense of belonging, McAlister teaches a variety of courses at Drake, including Rhetorics of Space & Place, Urban Photography: Imaging the City, Rhetorics of Class, Rhetorics of the American Family, HOME: Dwelling & Belonging, and Suburbia in Contemporary American Film.
"We had a slate of inspiring candidates for the Francine Merritt award this year," the award committee said. "Dr. McAlister's contributions in the areas of teaching, scholarship, service, mentoring and advocacy were impressive."
Learn more about Joan Faber McAlister's research and accomplishments in this Q&A:
What is rhetoric?
Rhetoric is a unique discipline, in that it doesn't have a set domain of given knowledge and content limiting what you can study. Rhetoric has no proper subject itself—unlike math, for example, which has sets of data and objective processes that you learn in order to perform certain functions correctly. Unlike some fields, it is not limited to a classical canon of materials that must be learned. It's more of a perspective or a method or lens to view the world, a way of looking at something. Many people think rhetoric concerns itself only with speech or public speaking, but that is an outdated definition (if it was ever true to begin with). Rhetoric today is about desires, experiences, and associations—and how these, together, shape our identities and influence the way we think and act.
Can you give me an example from your research?
I have done a lot of research into the concept of home. What we think of as "home" is more than just a place. It's about relationships—between you and your environment, between your body and your furniture, between your vision for aesthetics and the design of the rooms you inhabit, between your desires and your limitations. It also has to do with the associations between regional identities and cultures.
And as homemakers, we all employ rhetorics of homemaking. We can see these in the way we ethically and artfully navigate tensions between you and the people and places with which you're trying to live. Sometimes home is a sense of belonging that you've lost or been denied because of your family or your circumstances. Sometimes home becomes unlivable—a place of terror and abuse that you have to flee. Sometimes home is the relationship you are trying to have with your body and self-image in a culture that judges and/or denigrates you. Sometimes your fantasies of the perfect home inspire hope or lead to deep sorrow.
A rhetorician looks at the relationships between these feelings, associations, and experiences and representations of home in public culture, such as a speech about the American Dream; a movie about domestic violence; a news story about "homelessness;" a legal case deciding the definition of marriage or family. But a rhetorician can also look at our relationships with these representations and examine how they all come together to form our understandings of the concept of home.
Does Drake feel like home to you? If so, why?
When I'm mentoring instructors who are job hunting, I tell them: Yes, salary, teaching load, location, these are all important considerations. We need health insurance, and to live somewhere we don't hate. But what I really love about Drake is the ability to teach diverse course to curious students . My current research and scholarship passions are always welcome in the classroom. I'm inventing new courses all the time—and Drake students are always willing to take a risk and enroll. A lot of times I run a course for the first time and I say to students on day one, 'Why did you enroll in this class? You have no idea what the title even means!' For me, that willingness to engage your brain and have conversations with people who are different from you, to hear different perspectives, to not fixate on who's right and wrong but to learn from each others' views and experiences and ideas—that's what intellectual life is all about; and I find that at Drake. That's one reason I call it home."
A lot of your research investigates the way we talk about minorities and oppressed groups within different contexts. What is the relationship between rhetoric and social injustice?
If you care about social inequality and social change, you have to figure out how ideology works—how certain beliefs, attitudes, and values govern the social hierarchies we deal with (such as white supremacy, classism, and ableism). But ideology doesn't just fall from the sky like rain: Rhetoric is the mechanism whereby ideology gets nurtured or rooted up. You aren't born with an understanding of what it means to be an American or to be a member of any community. You are guided into it by the relationships between yourself and others; between yourself and various systems and constructs like race, class, and gender. Rhetoric can either cultivate or uproot the way we understand these relationships. It can tell us how to be a "real man" or tell us how to resist conventional ideals of masculinity.
What are your proudest accomplishments?
I am very proud of the work I've done as editor of Women's Studies in Communication. I have mentored a lot of junior scholars through the publication process and helped them to be more strategic about reaching a wide audience with wonderfully insightful research. I am proud of the forum section, a new editor position I created (Conversation and Commentary Editor), and of the important issues we have tackled there (like marginalized voters, public health, and Islamophobia).
But I am most proud of the work I have done with students at Drake, many of whom have gone on to engage in crucial advocacy and creativity and scholarship themselves. I am very proud of the inclusive and dynamic definition of feminist politics that we have created together—one that honors the way we all struggle with gender norms of femininity and masculinity and that respects how those struggles are connected to other cultural norms relating to race and age and class and sexuality and religion and ethnicity and ability and so many other boxes for social identity that both contain and limit the complex beings that we are.