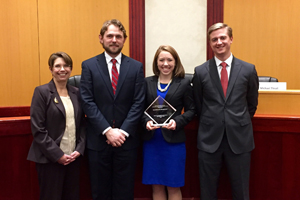 Drake University Law School's team of James Duff (3L), Christopher Kreuder (3L), and Julia Steggerda-Corey (2L) placed first at the Region 14 National Moot Court Competition.
The regional competition, which was hosted at Drake Law School Nov. 17-19, included teams from Drake, the University of Iowa, the University of Minnesota, the University of South Dakota, the University of St. Thomas, and Mitchell Hamline School of Law.
Drake's team remained undefeated throughout the competition to advance to the final round, which was judged by Chief Judge Linda Reade of the U.S. District Court of the Northern District of Iowa, Justice Edward Mansfield of the Iowa Supreme Court, and Michael Thrall, a Des Moines attorney representing the American College of Trial Lawyers.
Drake ultimately defeated a team from the University of Minnesota to be named regional champion.
Both Drake and the runner-up University of Minnesota team will advance to the National Moot Court Competition finals in New York City on Jan. 30-Feb. 2, 2017.
"Drake should be very proud of the team's exceptional performance," said Laurie Doré, Ellis and Nelle Levitt Distinguished Professor of Law and faculty coach of Drake's National Moot Court teams. "The students faced some talented advocates and delivered some of the best arguments I have heard. They also wrote an outstanding brief that contributed to their success."
"I look forward to seeing them compete in New York," Doré added.
The other Drake team of Kylie Crawford (3L), Samantha Farmer (2L), and Bryant Hickie (2L) also performed well, but did not advance to the elimination round.
In addition, four Drake students received individual oralist awards for their performances through the quarter-finals: Duff was named Best Oralist, Crawford and Steggerda-Corey tied for fourth place, and Kreuder received the sixth place award.
Co-sponsored by the New York City Bar and the American College of Trial Lawyers, the National Moot Court Competition is the nation's oldest and largest moot court competition. The competition consists of a written brief and an oral argument on a leading legal controversy.
Teams from more than 120 law schools nationwide compete in one of 14 regional rounds, with the top two teams from each region advancing to the national finals.
A Drake team has advanced to the National Moot Court Competition finals 21 times in the past 26 years.