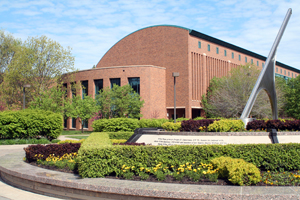 Drake University Law School has been ranked #12 in the 2016 Best Value Private Law Schools list by preLaw magazine, a National Jurist publication.
This marks the fourth year in a row Drake Law School was included in the annual list.
To determine the Best Value Private Law School rankings, which were featured in preLaw's Fall 2016 issue, the magazine calculated an estimated "true tuition," or the average amount students pay with grants and scholarships taken into consideration.
Other factors included employment statistics, bar passage rates, average debt at the time of graduation, and cost of living.
"We are proud to once again be recognized as one of the nation's top private law schools in terms of value," said Jerry Anderson, dean of Drake Law School. "It's our mission to provide an exceptional legal education that is also affordable. And with employment and bar pass rates above the national average, our graduates are proof of our success."
Drake Law students graduate with 14 percent less debt than the national average for private law schools. The Law School also awards more than $4 million in scholarships annually, with more than 60 percent of Drake Law students receiving a scholarship.
Drake Law School has one of the highest employment rates in the nation. For the class of 2015, 86.3 percent of graduates acquired full-time positions requiring bar passage or preferring a J.D. degree. This employment rate ranks 36th out of 204 law schools nationwide.
In addition, Drake Law School's passage rate for the Iowa bar in July 2016 was higher than the state and national average for first-time test takers.
Drake Law School was also recognized in preLaw magazine's Fall 2016 issue as a top school for business and corporate law, receiving an A- grade. Law schools were graded based on the breadth of their curricular offerings, including concentrations, clinics, externships, student groups, and certificates.
Read the complete preLaw Fall 2016 issue online.