PR students finalists for PR News honors
Public relations major Madison McConnell has been named a finalist for PR News' Student of the Year. Tom Scearce is a finalist for Intern of the Year.
Ad senior on winning GRIT team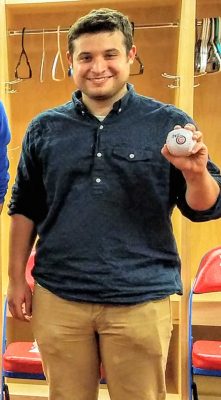 Advertising senior Jeff Hersheway was on the winning team at the recent GRIT student conference sponsored by the American Advertising Federation of Des Moines (AAFDSM). The teams, comprised of students from Drake, Iowa State, Buena Vista, Upper Iowa and GrandView, tackled a challenge posed by the Iowa Cubs. The students also participated in agency visits and career talks.
PR senior Moroz honored by LEAD
PR senior Mari Moroz was named Student of the Month by the LEAD concentration in leadership studies.
Tickets on sale for annual International Night festivities
International Night, hosted by Drake's international student association, will be held on Nov. 19 from 8-11 p.m. Tickets are on sale in Olmsted; the price includes a buffet dinner.
Nov. 7-14 early bird price: $5 (with student ID), $7 (without student ID)
Nov. 15-18 normal price: $7 (with student ID), $9 (without student ID)
Annual JMC Days events scheduled
JMC Days, the annual celebration of all things JMC, will be held next week, Nov. 14-18. Treats all week in Meredith back lobby and events including:
Monday, Nov. 14: Mock interview during the day and a Student Media Expo 6-8 p.m. with food in Meredith Hall. Behind-the-scenes tours of student media and publication pinups; Mer. 104 and 124B.
Tuesday, Nov. 15: Krista Tippett, host of NPR's "On Being," will be on campus for the Bucksbaum Lecture at 7 p.m. in the Knapp Center. Tippett will have a special Q&A with students 3-4 p.m. in Sussman Theater.
Wednesday, Nov. 16: Get hands-on experience with the latest digital tools, 5:30-8 p.m. in Mer. 124B and 124C.
Thursday, Nov. 17: The Harkin Institute for Public Policy and Citizen Engagement is partnering with Iowa Public TV to host a taping of "Iowa Press" at 7 p.m. in Sheslow Auditorium. The program will feature a post-election roundtable discussion of the election.
Friday, Nov. 18: Panel discussion of internship employers and their student interns at 5:30 p.m. in Mer. 106, followed at 6:30 p.m. by a networking reception with drinks and appetizers in the back lobby.
See SJMC internship coordinator Carlyn Crowe with any questions.
Sign up for SJMC networking bus trip to Minneapolis
The SJMC's annual student bus trip will visit Minneapolis for agency visits and networking on Friday, Dec. 2 and Saturday, Dec. 3. The schedule tentatively includes stops at the Olson and Space 150 agencies and Target headquarters, along with alumni networking and a gathering with prospective students, professional visit and exploration at the Mall of America. See Professor Kelly Bruhn or SJMC administrative assistant Shari Tenney for details.
Summer 2017 "hatchery" accepting applications
Applications are now being accepted for next summer's Lorentzen Student Hatchery, a unique program aimed at fostering student startups. Drake University students of any major, both undergraduate and graduate, are welcome to apply for the opportunity to get paid while working on their own business and can earn up to $10,000. Previous businesses have included social media apps and websites, a concierge service, sports coaching, pop-up art services and facilitation, and make-up artistry and product development.
 For more information and to apply, see Lorentzen Student Hatchery.
New scholarship available
The Bert Dince Memorial Hopeful to Hired Scholarship will be awarded to one student per year who can demonstrate that they are actively preparing for their dream job while still in college. For more information on the scholarship and to apply see: https://hopefultohired.com/scholarship/