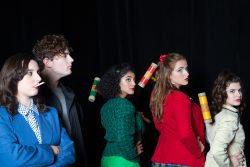 Very. 80s. Heartless. These three words are how cast members chose to describe Drake University Theatre Department's upcoming production of Heathers: The Musical with book, music and lyrics by Laurence O'Keefe and Kevin Murphy. The production runs Nov. 17-20 in the Performing Arts Hall of the Harmon Fine Arts Center.
This dark rock-musical comedy is based on the 1988 film by Daniel Waters of the same name. Westerberg High is ruled by "The Heathers," Heather Duke (Brittany Mendoza-Peña), Heather McNamara (Haley Ashlin) and queen bee Heather Chandler (Christina Stai). When sarcastic and smart Veronica Sawyer (Madison Moran) is taken under the shoulder-padded wings of "The Heathers" she must choose between the benefits of popularity and the love of a dark and handsome outsider, JD (Andrew Overton), all while trying to survive high school in the 1980s.
"This show is really good for our students since most of the roles are pretty age appropriate, which is usually hard to find," director and choreographer Karla Kash said. "I've always been a big fan of the film. It came out when I was a junior in high school and knew every single line by heart; I saw it so many times. The rights were now available, and I thought, 'Let's do it'."
Performances will start at 7:30 p.m. Nov. 17-19 and 2 p.m. Sunday, Nov. 20. Admission is $8 for adults and $6 for students and senior citizens. Tickets are available in the Fine Arts Box Office in the South Lobby of the Fine Arts Center as well as online. Visit the Box Office website or call 515-271-3841 for more information.
Madison Moran, a senior musical theatre major, has learned things about herself while navigating the morbid events her character, Veronica Sawyer, has to deal with throughout the show.
"In high school, I was pretty dorky," Moran said. "I never went through the transformation that Veronica went through, but learning to admit when I'm wrong is a big thing that Veronica's taught me. The fact that she can own up to killing someone, shows that I can own up to the things that I've done. Obviously I've never killed anyone, but the smaller things."
While the show is a comedy, it also deals with serious issues such as bullying, teen suicide, homophobia, and gun violence. However, Kash hopes that people can find some light in all of this darkness.
"I hope people can look at their relationships and how they treat others and how they might be able to treat each other a little better," Kash said. "There are moments in the show that get really raw and honest and I hope in those moments, people can think about that. There are bullies in your life all your life, it just may not be as obvious as it was when you were in high school so hopefully people can think about how they can be a little nicer to others."