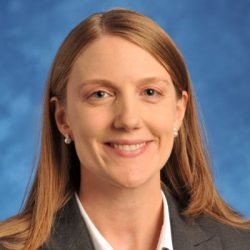 A high-ranking official within the U.S. Securities and Exchange Commission will discuss the rules and regulations that guide financial disclosures by Wall Street firms.
Sarah Esquivel, associate chief accountant of the SEC, will discuss the role of the chief accountant and the SEC in general during a free public lecture titled "Inside the Office of the Chief Accountant." 
The lecture is set for 7 p.m. Thursday, Nov. 3, in Sheslow Auditorium of Drake's Old Main, 2507 University Ave. The presentation is part of an annual lecture series hosted by Financial Executives International (FEI) and Drake University's School of Accounting.
"You hear a lot about the stock market in the financial press and the general news media. This is an opportunity to learn how the stock market is regulated," says Stephen Gara, director of the Drake University School of Accounting and associate professor of accounting. "Who's overseeing it, and making sure everything's on the up-and-up?"
The Office of the Chief Accountant is responsible for establishing and enforcing accounting and auditing policy to enhance the transparency and relevancy of financial reporting, and for improving the professional performance of public company auditors in order to ensure that financial statements used for investment decisions are presented fairly and have credibility.
In short, Gara says, that means they set rules to ensure firms make appropriate financial disclosures, so investors can make fully informed decisions about where they spend their money.
Esquivel has worked for the SEC since November 2015. Prior to joining the SEC she worked for nearly 7 years in financial compliance and research at Northrup Grumman Corporation, and four years as a senior auditor at Ernst and Young.
She earned her bachelor of science in business administration, with an academic concentration in accounting, from California Polytechnic State University-San Luis Obispo in 2004. 
For more information about the Nov. 3 lecture, contact Stephen Gara at 515-271-2156 or stephen.gara@drake.edu.