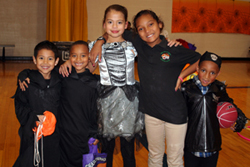 The Drake Law Public Service Scholars are hosting the 23rd annual Halloween Hoops on Thursday, Oct. 27, 6-8 p.m., at the Bell Center on Drake's campus (1421 27th Street).
The event is free and open to all Des Moines area children ages 3-11.
Halloween Hoops is a fun, safe, and family-friendly community event. Various activities are planned, including face painting, basketball, musical chairs, candy, and games. Children can also enjoy a "Wizard of Oz" themed scavenger hunt organized by Drake Law faculty and students.
Pizza and beverages will be served. Costumes are encouraged, but not required.
All participating children must have a parent/guardian release form signed. Please download and fill out the Parent/Guardian Release Form.
If you are an organization coordinating a group of children to attend, fill out the Organization Registration Form by Tuesday, Oct. 25. Parents/guardians must download and fill out the Parent/Guardian Release Form for Organizations and submit it to your organization.
Completed forms can be returned via email to emily.rouse@drake.edu or mail to:
Drake University Law School
Attn: PILA
2507 University Ave.
Des Moines, IA 50311
Halloween Hoops is hosted by the Drake Law Public Service Scholars and co-sponsored by the Des Moines Branch of the NAACP, Drake Student Bar Association, Public Interest Law Association, and Drake Association for Child Advocacy, with support from Drake University Law School, the Center for Community Engagement and Service-Learning, and Delta Theta Phi Legal Fraternity.
For questions, contact Emily Rouse at emily.rouse@drake.edu.