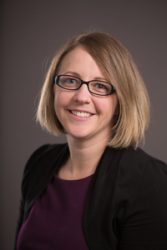 Jennifer Zwagerman, LW'04, director of career development and associate director of the Agricultural Law Center at Drake Law School, has been named president-elect of the American Agricultural Law Association (AALA).
Established in 1980, the AALA is a national professional membership organization focusing on the legal needs of the agricultural community. The organization offers an independent, nonpartisan forum that brings together diverse viewpoints to resolve complex agricultural law problems.
Zwagerman previously served on the AALA board of directors. She assumed the role of president-elect at the AALA's 2016 Agricultural Law Symposium, which was held in Oklahoma City in October.
In her role as president-elect, Zwagerman will be responsible for planning the 2017 symposium in Louisville, Ky. She will serve as president for one year beginning in fall 2017, followed by one year as past-president.
"I firmly believe in the value of this organization to food and agricultural law and policy professionals, and I'm excited to be a part of ensuring AALA remains strong into the future," Zwagerman said. "We want AALA to be a resource for our members, and to ensure we encompass all the sectors that are involved in the food and agricultural industry."
Zwagerman received her B.S. in Agriculture and Natural Resources Communications from Michigan State University. She spent several years as the promotions director for the Michigan Beef Industry Commission, Michigan Veal Committee, and Michigan Cattleman's Association before returning to law school to focus on agricultural law and policy.
The Drake Agricultural Law Center and its many opportunities were the primary reasons that attracted Zwagerman to Drake, and she earned her J.D. from Drake Law School in 2004. As a student, she served as editor-in-chief of the Drake Journal of Agricultural Law and was an Opperman Scholar as well as one of the first Harkin Summer Fellows. She went on to obtain her LL.M. in Agricultural Law from the University of Arkansas, Fayetteville.
Zwagerman served for two years as a law clerk to Judge David Hansen for the Eighth Circuit Court of Appeals before joining the Des Moines office of Faegre & Benson (now Faegre Baker Daniels), where she was an attorney in the general litigation group with a national practice in food and agricultural law.
In 2010, she served as a visiting professor at Drake Law School. The following year, she left Faegre & Benson to serve as Drake Law School's full-time director of career development. She was named associate director of the Agricultural Law Center in 2015.
Zwagerman now teaches various food and agricultural law classes, including Food and the Law and Current Issues in Food and Agriculture. She recently accompanied a group of Drake Law students on a week-long trip to Havana, Cuba, to study agricultural and food law.
In addition to her work with the AALA, Zwagerman sits on the Agricultural Law Section Council of the Iowa State Bar Association and is a member of the Rural Practice Committee.
For more information about Zwagerman, visit her faculty profile.