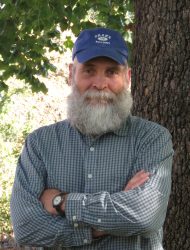 Drake University Professor of Biology Thomas R. Rosburg will receive a statewide award in recognition of his extensive conservation efforts, including giving 1,350 hours of his time to a project aimed at restoring prairies on private land throughout the state.
The Iowa Natural Heritage Foundation (INHF) announced today that Rosburg will receive the organization's 2016 Lawrence and Eula Hagie Heritage Award. The INHF is a statewide conservation organization that protects and restores Iowa's land, water, and wildlife, with current projects in central Iowa including the High Trestle Trail, additions to Chichaqua Bottoms Greenbelt, and several others.
"Iowa Natural Heritage Foundation is a highly revered, successful and dedicated conservation organization. To receive one of its most prestigious awards is an honor with tremendous meaning made even more significant when you consider the impressive list of previous recipients," Rosburg told the Iowa Natural Heritage Foundation.
Rosburg joined the Drake faculty in 1998. He teaches numerous courses in ecology, limnology, botany, biological research and statistics, natural history, and nature photography. His research includes an array of topics within plant ecology, most notably studies aimed toward understanding the factors that affect the species composition and structure of plant communities in prairie, forest and wetland ecosystems.
"I am deeply gratified that the Iowa Natural Heritage Foundation has recognized Professor Rosburg's long record of conservation and reclamation efforts with this award," said Joe Lenz, dean of the Drake University College of Arts and Sciences. "His work has not only benefitted the environment, but also provided our students with valuable field experiences."
The INHF news release continues:
Peter Levi, assistant professor of environmental science and policy at Drake University, nominated Rosburg for his exceptional commitment to conservation in Iowa. One of Rosburg's most remarkable achievements has been the Drake Prairie Rescue and Restoration Program, through which he has organized 165 events in 22 separate counties between 2004-2016.
During this time, he worked with landowners to protect 51 different remnant prairie and savanna ecosystems. His passion for this project was passed on to the 170 Drake students who received hands-on management experience and ecological training while working over 2,625 hours on projects under Rosburg's mentorship.
"Ever since I discovered how many native prairie and savanna remnants still exist in rural Iowa—during a research project aimed at mapping prairies—that are in need of management to prevent their demise, I have felt a strong obligation to save as many as possible," Rosburg said.
With over 50 years of service to conservation projects since he joined a 4-H chapter in the 1960s, Rosburg continues following his passion for the environment at home. He and his wife, Carmen, live on a farmstead comprised of 3 acres of reconstructed prairie, 20 acres of grasslands and a silt dam to protect downstream water quality. Rosburg's other hobbies include hiking, running (he has completed three ultramarathons), nature photography, sustainable farming, hunting, fishing and reading.
…
Rosburg will receive his award at a date and time to be determined. For any questions regarding the ceremony, please contact Erin Griffin, INHF events coordinator and development specialist, at egriffin@inhf.org or 515-288-1846, ext. 11.