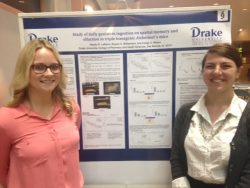 Two Drake University students won first place at an Iowa State University neuroscience competition for research aimed at slowing the effects of Alzheimer's disease.
Hayley LeBlanc, a senior neuroscience and psychology major from Leawood, Kan., and Alyson Williamson, a P3 pharmacy student from Colfax, Iowa, won first place in a poster presentation competition at Iowa State's Neuroscience Research Day on September 17.
Their research, titled Study of Daily Genistein Ingestion on Spatial Memory and Olfaction in Triple Transgenic Alzheimer's Mice, earned top marks over 27 other posters displayed at the research conference.
The research tests whether mice who ingest a compound called genistein—which is similar in structure to estrogen, and found in soy—have fewer of the brain pathologies that occur in Alzheimer's patients.
"Alzheimer's is a debilitating disease that causes significant learning and memory deficits," said LeBlanc, who undertook the research as part of her senior capstone project under the mentorship of Craige Wrenn, associate professor of pharmacology. "As our population ages, it will be important to address the growing population of patients with Alzheimer's Disease and how to better treat these patients."
After several weeks of testing, the mice have not shown enhanced learning or memory, although some data from human and animal experiments has suggested that estrogen has memory-promoting effects.
The students continue to persevere in their research; meanwhile, they were rewarded for a poster presentation that clearly and compellingly showcased their work to-date.
"They clearly stated their hypothesis, gave an easy-to-understand description of their methods, and provided a clear description of their data," Wrenn said. "When the judges visited their poster, they came away understanding the project. That's an important skill to have as a scientist."
LeBlanc said the research has taught her and Williamson to handle the rigor of post-graduate research opportunities. She hopes to spend a year after graduation pursuing research opportunities before enrolling in medical school.
"I would definitely recommend Drake to anyone desiring a personalized form of education and unparalleled research opportunities," LeBlanc said. "When I was deciding where to attend college, I was between Drake and a state school… I can confidently say that my decision to attend Drake has given me extremely hands-on opportunities to study something I love while providing me with a top-notch research experience."
After she graduates, Williamson plans to become a clinical pharmacist at a location where she can conduct research on a regular basis. She said she's benefited from individual faculty mentorship during her time at Drake.
"While there are many pharmacy schools to choose from, I wanted to be at a school where I mattered," Williamson said. "The smallest of questions or concerns that I have are important to my teachers and other faculty members. They don't just remember my face but also who I am, and they are genuinely happy when their students succeed. "