The world's population is aging. A 2012 World Health Organization report estimated nearly 36 million people worldwide living with dementia—Alzheimer's disease being the most frequent cause in Western societies. The numbers are expected to double by 2030 and triple by 2050, with profound implications for health care and financial systems—and society as a whole.
Studies have shown that Alzheimer's is less prevalent in Asia, notes Craige Wrenn, associate professor of pharmacology. A
significant environmental difference—a diet high in soy—could help explain the contrasting occurrences. Recently awarded the Ronald Troyer Research Fellowship for 2015–2016, Wrenn will investigate over the next year the possible connections between soy consumption and the learning and memory deficits associated with Alzheimer's.
More specifically, the focus of Wrenn's research is genistein, a compound found in soy that has an estrogen-like structure. It's been studied as a therapy for post-menopausal women and linked to a decreased risk for cognitive decline. Wrenn hypothesizes that genistein may benefit brains already plagued by impairment, reducing the existing plaques and tangles characteristic of Alzheimer's. He'll be assisted by two Drake students in a study that tracks test mice with Alzheimer's-like pathology, some of which will consume only genistein-enriched food every day.
"The real-world takeaway could be a recommendation to eat soy throughout life as a means of preventing Alzheimer's," explains Wrenn, whose earlier research explored the roles of neuron loss and elevated neuropeptide levels in Alzheimer's. "Or genistein could become a preventative drug [for patients with a family history of Alzheimer's], or maybe we find it's so effective that people can wait for symptoms to
arise."
Wrenn says he wants the students assisting him to not only better understand the disease but to also walk away with a deeper appreciation for the scientific process—the critical steps toward formulating and testing hypotheses.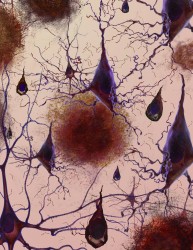 "They'll be trained by the principal investigator—me—not handed off to a graduate student or post-doctoral middleman," says Wrenn of the undergraduate research opportunities available at the University. "Here at Drake, we view ourselves first as teachers."
The Ronald Troyer Research Fellowship was created in 2010 to recognize former Drake Provost and Professor of Sociology Ronald Troyer. Its $5,000 stipend, sponsored by the Drake University Board of Trustees, covers one year of research-related expenses. Wrenn hopes his experiment will serve as a stepping stone to more expansive research, enabling him to apply for future grants for larger-scale projects.