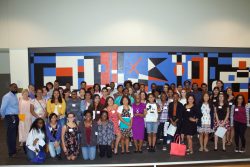 The Wanda Everage Academic Success Symposium, sponsored by Nationwide and the Drake University School of Education, designed to help students of color overcome challenges as they prepare for college, took place in August at the Olmstead Center on Drake University's campus.
The inaugural event included daily activities starting on Sunday, August 7 and culminating on Friday, August 12 when Dr. Wanda Everage gave the keynote address and participants delivered presentations on the topic of Secrets of Success.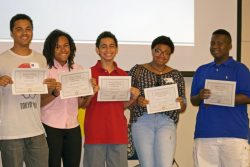 Each session was led by two Des Moines high school students and one Drake University graduate student, who balanced academic theory with the lived experience of Des Moines-area youth. The goal was to energize students to pursue challenging academic tracks, overcome stereotypes, and enroll in higher education.  "We know that students of color, in Des Moines Public Schools (DMPS) and around the country, are pursuing advanced placement courses, college preparatory courses, and enrolling in higher education at a rate lower than white students," said Petra Lange, a former Roosevelt High School teacher who joined the Drake University School of Education in 2015 as Special Projects Coordinator. "Drake is committed to partnering with DMPS to help address those disparities, and to meet the district's goal of becoming a national model of urban education."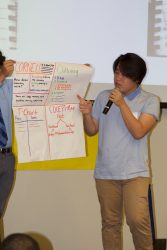 The curriculum for the event was provided by Wade Leuwerke, Associate Professor of Counselor Education in the School of Education. Dr. Leuwerke published a textbook on college student success along with two colleagues, Paul Gore of Xavier University and A.J. Metz of the University of Utah.  The textbook, Connections: Empowering College and Career Success helps first-time and returning college students develop the skills, attitudes, and behaviors critical for success in college and into their careers. The book empowers students to take responsibility for their education by increasing self-regulation, critical thinking, positive thinking, goal setting, and intentional career planning.
Topics for the symposium included:
Embracing strengths and learning from weaknesses
Time-management and decision-making—skills for improving personal responsibility
Note-taking and study skills
Academic and career planning
Overcoming stereotype threats
After a week of workshops, the students were excited to see it all come together and hear from Dr. Everage, for whom the weeklong symposium was named for.  Everage retired in 2012 as Drake's Vice Provost for Student Affairs and Academic Excellence after previously working for DMPS as a middle school teacher, central office administrator, and vice principal at Roosevelt.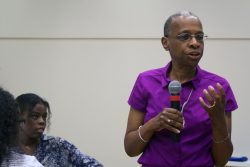 Dr. Everage shared personal experiences and some helpful tips to this promising group of students.  With the help of some student volunteers she demonstrated the point that everyone's blood, sweat and tears look the same. "You are alive and you deserve to be where you are," she said. "But never miss a class. Always come prepared. And don't ever be afraid to ask for help or express your feelings."
Dressed in purple, Everage explained the meaning behind her color choice. "I used to use a purple sponge to remind my students of their royalty and to absorb everything they possibly could. Education is a marvelous thing. No one," she said, pointing emphatically to her head, "can ever take from you what you work to put in here."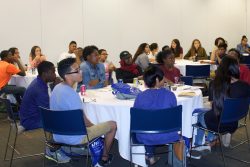 Fifty Des Moines Public School students participated in the event, representing four of the five high schools in the Des Moines Public Schools district: East, Lincoln, North, and Roosevelt, and from five of the district's middle schools: Callanan, Brody, Merrill, Weeks, Goodrell, and Cowles.  Students were selected after completion of an application process and upon recommendations from school counselors and the district's Talented and Gifted consultants.