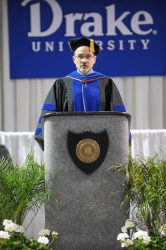 Professor of Pharmacology Ron Torry addressed the 106 Pharm.D. graduates on Saturday, May 14, 2016 and likened their entrance into Drake University Alumni status to becoming a newly minted dollar bill.
Under each graduate's chair was a new dollar bill in an envelope. "You are like a dollar bill," Torry said. "You are one of thousands of newly minted Pharm.D. graduates this year."
He went on to explain that on the surface, the training of every Pharm.D. student looks the same. The design of the dollar is the same, much like virtually all pharmacy graduates will have taken similar classes to receive their education.
However, what makes each dollar unique is not what is printed on its surface, but what is printed on a small portion of the bill – its serial number.
"Like the dollar bill, you too will have a mark of distinction, a pharmacy degree and diploma with your name on it from Drake University," Torry said. "It tells the world that you were minted in an institution with a long history of producing distinctive graduates."
Torry ended the address by challenging the graduates to remember their distinction as a Drake graduate and to continue the tradition of excellence.
See more information about the graduates, awards, and photos from each celebration this spring commencement.
2016 CPHS Health Sciences Graduation Celebration