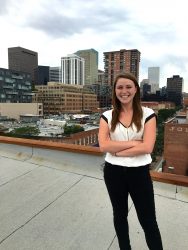 Alumna Kim Hennen, JO'16, wanted to stand out when she applied for a competitive internship with Turner, a communications agency in Denver, Colorado. But, these days printing your resume on colored paper won't do the trick.
Kim knew she would be working with digital and social media, and she wanted to demonstrate her expertise. "I thought a Snapchat story would be something different that would stand out since I knew there would be a lot of people applying," she said.
She filmed a series of short video clips from her typical day as a senior at Drake University, peppered with interviews straight from her references. She was able to assemble those clips into a Snapchat story that not only demonstrated her social media savvy, but also showed a personal side that Turner wouldn't have gotten from a resume.
Turner received more than 100 applications for the coveted summer internship, and the Snapchat story is what made Kim stand out and earn an interview. Turner is an ad agency who has travel clients, and they see Snapchat as a tool for hotels and destinations to get their markets engaging with their brand.
Her supervisors Whitt Kelly and Ashley Cox said they have received some unique applications before, including personalized postcards, but never a Snapchat story.
"What stood out to us was that Kim's story was tailored specifically for this job, which helped show her passion for our clients and her pharmacy student masterchef canada desire to work at Turner, specifically," said Whitt Kelly, junior account executive. "The internship includes working with both our PR and digital teams, and Kim was one of the only applicants to take that into consideration by not only showing us her writing and communication skills, but also her knowledge of effectively using a social platform."
The Snapchat story wasn't the only item that landed Kim the internship. "It was everything in total," Kelly said. "Her interview, her experience, her clear career direction, her passion for travel and public relations, all convinced us she was perfect for the job."
Watch the Snapchat Story she submitted below: