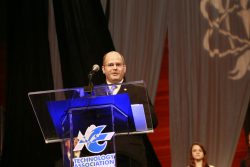 Ben Chadwick is making a name for himself in central Iowa. He's won awards. He's been published. He's got a pretty big fan base—comprised mostly of pre-teens. It may sound like he's an ex-Disney star aiming for world domination, but he's actually doing something more important. He's a teacher.
Chadwick, a graduate student in the Specialist in Education Leadership (Ed.S.) program in Drake's School of Education, is a National Board Certified Teacher focusing on STEM (science, technology, engineering, and math)-related fields; his courses have included Introduction to Engineering, Computer Science and Software Engineering, and Logic Through Robotics—all for junior-high aged students. Now at Summit Middle School in Johnston, Iowa, he is taking success from his previous job in a nearby school district and creating new programs to get sixth and seventh graders excited about STEM. His efforts, and those of his colleagues across the state, could positively affect the Iowa economy: There are roughly 3.4 STEM jobs for every one qualified graduate in Iowa today.
While that's certainly a motivator for Chadwick, he's more interested in showing students how technology can be applied to any subject, and how it can make a difference in their communities.
"I really try to empower my kids to see what they can do with their knowledge—how they can use it to make someone's life better," he says. "In my courses I give them six weeks to find a problem and create something to fix it."
He says many workable solutions have come out of the projects. One group of students helped a peer who had limited range of motion by creating an easily accessible cell phone holder that attached to his motorized wheel chair.
His work has not gone unnoticed. Chadwick was recently named a finalist for the Iowa Teacher of the Year award, and his HyperStream partnership received a Prometheus Award for Innovation in Teaching.
"These recognitions are really a reflection of my kids," Chadwick said. "My teaching style is different and the students really respond to it, but it's their work that's being recognized."
If there's one thing to know about Chadwick, it's that he's always striving to be better—cue graduate school. Initially attracted to the program because of its cohort model (and maybe some slight pressure from his mother, a two-time Drake alumna), Chadwick says the Ed.S. program has been a game changer.
"The cohort model is priceless. The professors are passionate about what they do, and they are extremely supportive and motivating. Each course has a real-world assignment that I've actually applied in my schools. I don't think there's a better college for education than Drake."
Chadwick, a former Marine who is attending the University on the GI Bill, recently had research published in the prestigious International Journal of Modern Engineering Research. He was also selected to participate in the National Air & Space Museum STEM Curriculum Review.
But in the end, it's not about the recognition for Chadwick.
"The most rewarding part of teaching is to see kids take the initiative to do something that's greater than themselves with what we've taught them."