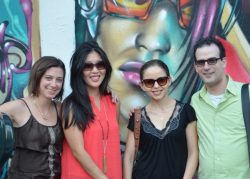 One of Des Moines' newest and most unique music series returns this summer with five free concerts in some of the city's most attractive venues.
Zenith Chamber Music Festival brings world-class chamber musicians to central Iowa for free chamber music concerts. The family-friendly festival, which drew large crowds in its inaugural year, returns August 16-20 in venues including the Salisbury House, Jasper Winery, Des Moines Art Center, and Drake University's Sheslow Auditorium.
"We were absolutely thrilled with the turnout at last year's performances, and we look forward to sharing this beautiful music with even more families in Greater Des Moines this summer," said Artistic Director Ashley Sidon, the Briggs Endowed Professor of Cello at Drake University. "Zenith brings classical music out of the traditional concert halls and into the community for an exceptionally accessible and memorable experience."
Each evening's performance is different from the one before, with repertoire that balances traditional classical music with klezmer, jazz, and other diverse musical styles. The festival complements Des Moines' more longstanding and well-known pop and rock music festivals including 80/35, Nitefall on the River, and the Grandstand lineup at the Iowa State Fair.
Performance dates, times, and locations are as follows:
Tuesday, Aug. 16, 7:30 p.m.: Salisbury House, 4025 Towanda Dr.
Wednesday, Aug. 17, 6 p.m.: Jasper Winery, 2400 George Flagg Pkwy
Thursday, Aug. 18, 1 p.m.: Location TBD
Friday, Aug. 19, 7:30 p.m.: Des Moines Art Center
Saturday, Aug. 20, 7:30 p.m.: Sheslow Auditorium, Drake University, 2507 University Ave.
Featured national artists include Anna Reider, first violinist of the Cincinnati Symphony Orchestra; violinist Helen Hwaya Kim; Arie Schachter, assistant principal violist with the Seattle Symphony; Anthony Kitai, cellist with the Houston Symphony; and pianist Kelly Kuo.
Local musicians include saxophonist Colin Young, who serves on the faculties of Drake University and Grinnell College; Gregory Oakes, principal clarinetist of the Des Moines Symphony; and Ashley Sidon, Briggs Endowed Professor of Cello at Drake University.
Visit www.drake.edu/zenith throughout the summer for more information as it becomes available.