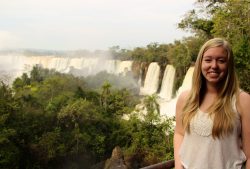 Two Drake University students have been offered Fulbright Scholarships for 2016-2017. Seniors Emily Enquist and Taylor Donaldson will join a long list of Drake graduates who have received Fulbright Scholarships in recent years.
The Fulbright Scholarship program is one of the nation's most competitive postgraduate international exchange programs. Students who receive a Fulbright Scholarship are federally funded to spend one year of postgraduate study teaching or conducting research in a foreign country. The application process is extensive, and only a select few applicants receive grants.
Historically, Drake University has been one of the top institutional producers of Fulbright Scholars in the category of master's producing institutions. Including the most recent 2015-2016 designation, Drake has been named a top producer of Fulbright Scholars four years in a row, and a total of six times since 2006-2007.
Eleanor Zeff, associate professor of political science, has been the Fulbright program advisor since 2003. This year, Zeff will transfer this role to Karen Leroux, associate professor of history and incoming Fulbright program advisor for the 2017-2018 Fulbright awards.
"Having Fulbright scholars at Drake demonstrates the high caliber of students at Drake and shows that these students are competitive at the national level," said Zeff. "It also shows that Drake is preparing its students for meaningful community and global careers, and offers exciting opportunities and training for its students."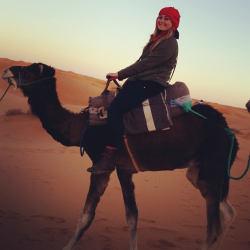 Emily Enquist, an international business major with a minor in anthropology, will be teaching in Bulgaria. Taylor Donaldson, a religion and law, politics, and society double major with a concentration in women's and gender studies and a music minor, will be teaching in Morocco.
"The application process was fairly rigorous and took about a year to complete," said Enquist.
The Fulbright application became available in April 2015, and required several essays and multiple references, followed by a Skype interview with the Bulgarian-American Fulbright Commission, before Enquist was selected as a Fulbright finalist.
"I am profoundly honored to have been selected as a Fulbright finalist," said Enquist. "It has been a dream of mine to be able to represent my university and country as an ambassador through international education, and this program is the best way I can imagine doing so."
Enquist has had multiple other experiences abroad, studying in Argentina, Finland, and Uganda. She chose Bulgaria in order to explore a different part of the world.
Donaldson studied abroad in Morocco in fall 2014, and is using her Fulbright scholarship as an opportunity to return to teaching English in the region.
"I knew I wanted to apply to a country in the Middle East or North Africa because my studies in religion and Arabic have drawn me to the region," said Donaldson. "I had already fallen in love with Morocco through my study abroad experience in the country, I thought it would be a great opportunity to return once more."
Both Enquist and Donaldson will be teaching English as a second language during the 2016-2017 academic year.
Visit www.fulbright.org to learn more about the Fulbright Scholarship Program.